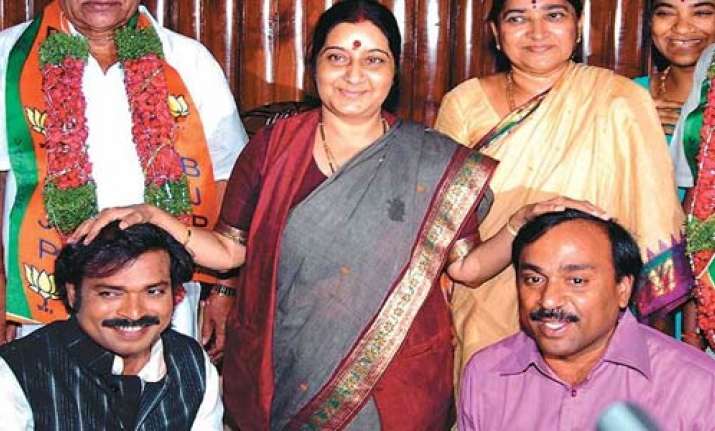 New Delhi, May 28: With her remarks on Arun Jaitley regarding Reddy brothers threatening to snowball into a major row, BJP President Nitin Gadkari today stepped in to virtually snub Sushma Swaraj saying any debate on the choice of ministers in Karnataka in the media is "totally unnecessary".

Gadkari came out with a statement this evening after former party president Rajnath Singh and Chief Minister B S Yeddyurappa claimed responsibility for inducting the controversial Reddy brothers, mining magnates, into the state cabinet, from which Swaraj had distanced herself.

Swaraj, widely perceived to be close to the Reddy brothers, had in an interview yesterday said it was Jaitley, Yeddyurappa, M Venkaiah Naidu and Ananth Kumar who had decided to induct Janardhan and Karunakar Reddy into the cabinet.

The remarks, which brought to fore the differences in second generation leadership in the party, forced Rajnath Singh and Yeddyurappa to claim responsibility for the induction of the Reddy brothers.

While Swaraj and Jaitley kept mum on the issue, Gadkari came out with a sharp statement which said there is "absolutely no question of any individual or individuals influencing this process in any particular manner".

"Any debate about the choice of ministers in the Karnataka government at this stage in the media is totally unnecessary," Gadkari said.

This is the second time that Gadkari appeared to openly snub Swaraj for her public statements. In the earlier instance, Gadkari had differed with her when she said she was satisfied with Prime Minister Manmohan Singh's statement on the controversy surrounding appointment of P J Thomas as CVC and the matter should be closed.

In today's statement, Gadkari said BJP is a democratic party and always follows the democratic procedure of government-formation in states when it is returned to power.

"The party leader is elected by the BJP legislature party in the presence of a team of central observers. The Chief Minister, in exercise of his constitutional prerogative, forms his cabinet in consultation with the party's central and state leadership," Gadkari said.

He maintained this practice was followed in Karnataka as well.

"It is the considered position of BJP that all our cabinet ministers in Karnataka government are the unanimous choice of the party, both central as well as the state, and are equally capable and committed to providing good governance to the people of Karnataka," Gadkari said.

Earlier, Rajnath Singh had denied there was any rift between Swaraj and Jaitley.

"Reports of a rift between Sushma Swaraj and Arun Jaitley are baseless. This is true that Arun was in-charge of Karnataka. I had sent him there as I was president (of BJP) during cabinet formation," Singh said.

However, he said he took responsibility for all that happened in Karnataka and nobody could be blamed for that. The selection of ministers is also the Chief Minister's prerogative, he said.

BJP spokesperson Ravi Shankar Prasad said Swaraj had herself stated in the same interview that she and Jaitley were in agreement on 95 to 99 per cent issues. 

The infighting among the top BJP leaders spilled out in the open when  Leader of Opposition in Lok Sabha Sushma Swaraj told Outlook magazine in an interview that she had no hand in the political making of the Reddy brothers  in Karnataka, notorious for illegal  ore mining.

Swaraj refuted charges that she is a protector of the mining barons Bellary brothers and played a role in their induction into the Karnataka cabinet.

"There cannot be a bigger lie. Let me tell you the truth, I have no hand in the political making of the Bellary brothers. I had nothing to do in making them ministers or building up their stature as political leaders," Ms. Swaraj said in an interview to a weekly magazine Outlook.

The Bellary brothers, Janardhan, Karunakar and Somashekhar Reddy, are said to be close to Ms. Swaraj and reportedly enjoy her patronage. The proximity between Ms. Swaraj and Reddy brothers- who say they respect her as a family elder- has been since the former contested against Congress President Sonia Gandhi from Bellary in 1999.

However, Ms. Swaraj denied that she was responsible for induction of the Bellary brothers, who are known detractors of Chief Minister B S Yeddyurappa, into the State cabinet.

"When Bellary brothers were made ministers, (Arun) Jaitley was in-charge and  Yeddyurappa was Chief Minister.

Venkaiah (Naidu) and Ananth Kumar were there as senior leaders. Whatever discussions happened, happened between these people. I had nothing to do with it,"  Swaraj said.

Janardhan and Karunakar Reddy are cabinet ministers in Karnataka. Somashekhar is in-charge of a government body with ministerial status.

"My total interaction with the Reddy brothers is limited to one day in the year, when I go to Bellary for the puja of Varamahalakshmi. For the remaining 364 days, we have no conversation or communication," she said.

Swaraj, in fact, maintained that she was opposed to the Reddy brothers becoming cabinet ministers.

"I was opposed to their appointment as ministers, opposed to three members of a family being made ministers. But they (Jaitley, Naidu and Kumar) had some political compulsions which made them appoint the brothers," she said.

However,  Swaraj accepted that when there was a rebellion in Karnataka BJP in 2009 and the government was on the verge of falling, she did talk to the Reddy brothers to placate them. But she maintained she did so after then party president  Rajnath Singh and in-charge Jaitley asked her to do so.