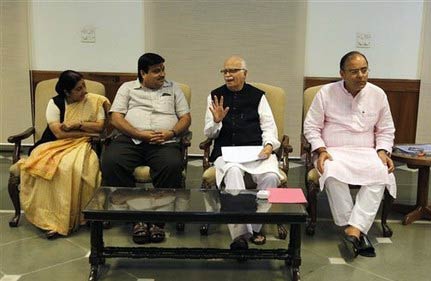 New Delhi, Nov 23: Senior BJP leaders including President Nitin Gadkari and Arun Jaitley met here tonight to discuss the future of Karnataka Chief Minister B S Yeddyurappa, who has refused to resign following allegations of nepotism in land allotment.
Party leaders Ramlal and V Satish are among those who attended the meeting at the residence of Bal Apte, RSS pointsman in the party.
The Karnataka Chief Minister, who has been camping in the city along with his supporters since yesterday, has been holding talks with the top central leadership throughout the day.
Several of his supporters including state unit President Ishwarappa and V S Acharya have strongly come out in support of Yeddyurappa.
Some BJP MPs from the state sympathetic to the Chief Minister have met senior leaders L K Advani and Sushma Swaraj to plead his case and suggest that he should continue.
Advani reportedly told them that the central leadership has now authorised Gadkari to deal with the issue.
Senior leader Arun Jaitley and M Venkaiah Naidu also held discussions with Yeddyurappa this morning to solve the crisis. Yeddyurappa has maintained in public that he will abide by the party decision, but he has also insisted that he has the support of 110-120 MLAs.
Yeddyurappa also claims he has not been asked to resign, an issue on which the central leadership has remained tightlipped. PTI