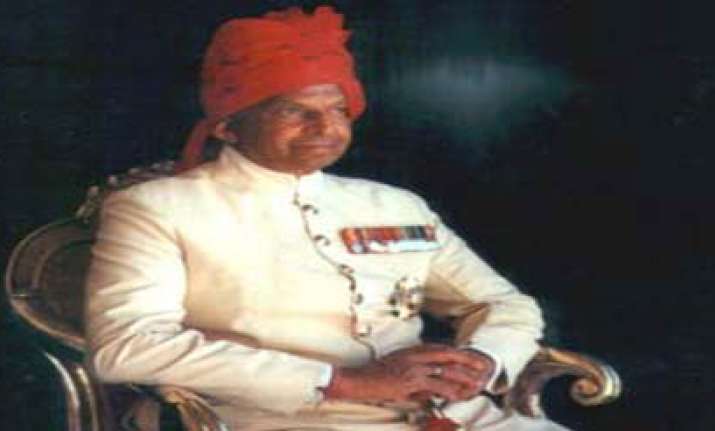 Jaipur, Apr 17: The former ruler of Jaipur Brigadier (Retd) Maharaja Bhawani Singh passed away on Saturday night at the Medicity hospital in Gurgaon near Delhi, doctors said.
 
Bhawani  Singh, 80, was admitted to the hospital as he was not keeping well for some time. He breathed his last at aroun 1 am, family sources said, according to India TV correspondent Sangeeta Pranavendra.
 
Bhawani Singh was successor to the last Maharajah of Jaipur Sawai Man Singh II.  He is survived by his wife Padmini Devi and daughter Diya Kumari. The last rites will be performed on Monday here.
 
Brigadier Sawai Bhawani Singh Bahadur, MVC (born 1931) was the last titular Maharaj of Jaipur  and head of the  Kachwaha clan of Rajputs.
 
 The title technically ended when the then Prime Minister Indira Gandhi abolished the privy purses of all former rulers. Royal entitlements were abolished along with  privy purses through a constitutional  amendment in 1971. However, the erstwhile maharaja was considered a political, cultural, and religious icon in modern  Rajasthan  and he was sometimes still referred to in the media as His Highness, The Maharaja of Jaipur.
 
Born to Maharaja Sawai Man Singh II  and his first wife, Marudhar Kanwar of  Jodhpur,  Bhawani was educated at  The Doon School, Dehradun  and later Harrow School.
 
As the first male heir born to a reigning Maharaja of Jaipur for generations (all others, including his father, who was originally a minor noble, were adopted), his birth was a celebrated event in Jaipur, where the fountains of the royal palaces flowed with champagne in his honor giving him the nickname Bubbles.
 
As a young man, Crown Prince Bhawani Singh served in the Indian Army and received numerous honors, including a promotion to the Presidential Bodyguards in 1954, and the post of  Adjutant at Indian Military Academy, Dehradun.

 In 1968, Bhawani was second-in-command of the 10th Parachute Regiment  (Commando) one of the 3 elite Special Forces  battalions in India at the time, and became the Commanding Officer (CO) later in 1968.

In the Indo-Pak war of 1971,   Bhawani Singh led his troops deep inside Pakistani territory in the Sindh province  of Pakistan, attacking and destroying many Pakistani posts.

For this, he was awarded India's second-highest gallantry award, the Mahavir Chakra.  He was promoted to the rank of  Brigadier  in 1974. In his retirement, he also served as Indian High commissioner to Brunei  from 1994-1997

Bhawani Singh ascended the throne of  Jaipur in 1970 following the death of his father, and remained the official Maharaja until the abolition of the privy purse and royal entitlements by the Centre, although he remains generally honored like most other erstwhile rulers.

He married Princess Padmini Devi of Sirmaur, Himachal Pradesh on 10 March 1966 in a ceremony held at Delhi.  She was the daughter of his father's polo-playing friend Maharaj Rajendra Singh by his wife Maharani Indira Devi.  The royal couple have one daughter, Princess Diya Kumari (b. 30 January 1971).

In 1997, Princess Diya married  Narendra Singh Rajawat , a commoner and very distant cousin who had been a member of the household staff of the Maharaja of Jaipur.  He is a son of Thakur Buddha Singh of Kotda village in Tonk district; the father had earlier served as a guard at the city palace.  They have three children: Kumar Padmanabh Singh, Laksh Raj Singh and a daughter Gorvi Devi

Bhawani Singh continued to run, like his father, many palaces as hotels, including the Rambagh Palace,  Raj Mahal palace, or other former royal residences.  Bhawani Singh used to conduct several ceremonies and customs from the traditional seat of royal power, the sprawling City Palace. He was also involved in local politics, as was his late stepmother, Gayatri Devi, who passed away a few years ago.
 
Following his retirement from the army Bhawani Singh contested the  Lok Sabha elections in the year 1989 on a Congress party ticket but lost to a commoner Girdhari Lal Bhargav, the local BJP leader.

He then retired from active politics and devoted his time to his family and the nurturing of Jaipur's traditional arts and heritage.
PTI adds: The  funeral will take place at 'Gaitore Ki Chatriya' here tomorrow, the sources said.

Bhawani Singh was the 40th Maharaja of Jaipur and the 11th ruler as per the tradition of Amber.He adopted Padmanabh—the son of his daughter Diya Kumari and son-in-law Narendra Singh—who will now ascend to the throne as per the tradition of the royal family, the family sources said. I