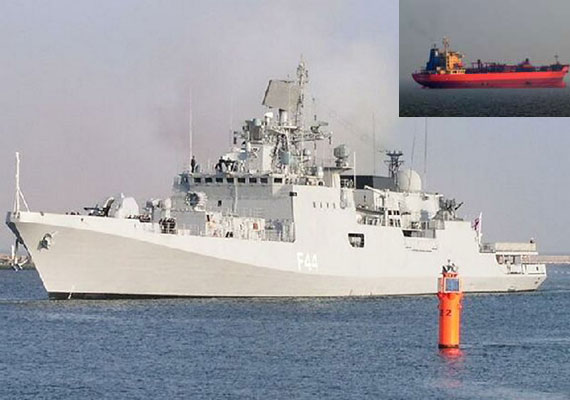 Mumbai, Nov 5 : Five crew of an Indian vessel MV Maharshi Krishnatreya, bound for UAE, died after inhaling gas aboard the ship on sea 140 nautical miles southwest of Porbandar this morning.  
The vessel, belonging to Varun Shipping Company, developed problems, when a pipe in the compressor room got damaged, and while repairing, the Chief Officer, gas engineer, Bosun and three other seamen were overcome by gas.  
Five of them died on the spot, while the sixth was  evacuated to Porbandar by an Indian Navy Sea King helicopter for urgent medical treatment, an Indian Navy press release said.
The Navy in Mumbai received a call at about 10:45 today from Varun Shipping Company about the distress aboard the ship.
"On receipt of the call a  Sea King MK 42C helicopter, with a medical team was launched from Mumbai for casualty evacuation of personnel from the ship.
" In addition, INS Tabar which was at sea was also directed to proceed at best speed to render assistance.
"The  Directorate of Shipping has been informed by  Varun Shipping about the mishap which took place while the vessel (in ballast) was en rote to a dry dock", the press release said.
"The vessel has been diverted to Porbandar. A Coast Guard boat with medical team is near  the vessel and a Naval helicopter has also been launched for evacuation of affected crew".
"Principal Officer, Mercantile Marine Department, Kandla has been tasked to conduct Preliminary Inquiry, under the provisions of Merchant Shipping Act", the press release said.