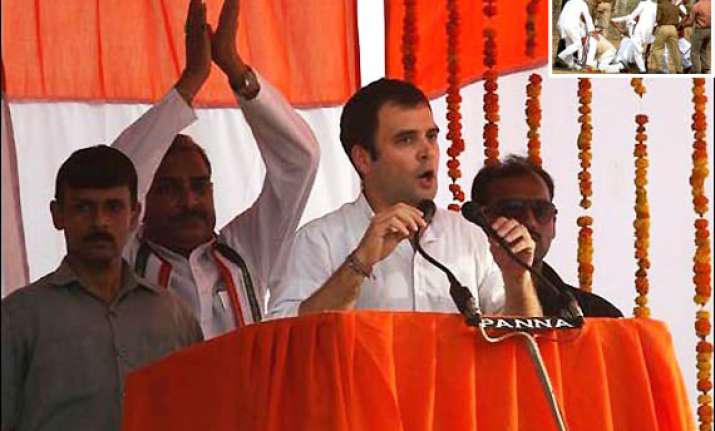 Allahabad, Nov 16: Police here on Tuesday registered an FIR against Union Ministers Jitin Prasada and R P N Singh and CLP leader in Uttar Pradesh assembly Pramod Tiwari in connection with the scuffle with Samajwadi Party youth wing supporters at the venue of Rahul Gandhi's rally in Phulpur.

The FIR, which also named Congress MLC Naseenb, was lodged on a complaint by Abhishek Yadav, one of the four SP youth wing supporters who alleged he had been thrashed by SPG personnel and the Congress leaders at the venue of Rahul Gandhi's rally yesterday.

"An FIR has been lodged at Jhusi police station under the relevant sections of the Indian Penal Code upon the complaint of Abhishek Yadav, who was among the four persons arrested from the Trivenipuram ground where the rally was held", Inspector General of Police, Allahabad Range, B P Jogdand said.

He said the FIR was lodged after the complaint, registered by Yadav earlier in the day, was referred to the Deputy Inspector General of Police Prakash D, who is the district police chief and who gave the nod for the First Information Report.

Yadav was arrested along with three other supporters of Samajwadi Yuvjan Sabha when they were running towards Rahul Gandhi's helicopter, trying to show him a black flag.

They were pressing the demand for restoring students' union at the Allahabad University which was accorded central status in 2005.