Follow us on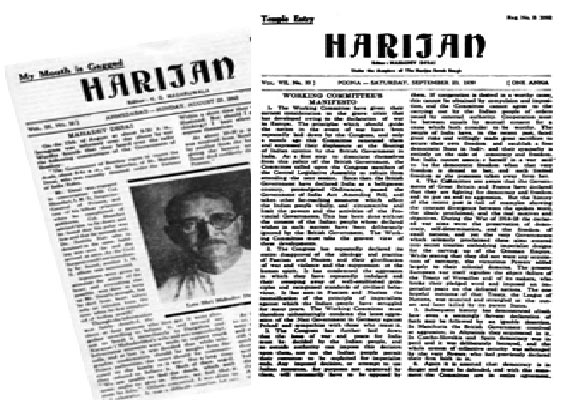 Ahmedabad: The facsimile version of 'Harijan', a weekly publication started by Father of the Nation, Mahatma Gandhi, to highlight the social and economic problems of India and the world, will be released today. 
"'Harijan' is one of the two main publications of Gandhiji. While Young India has already been published, 'Harijan' was yet to be published," Vivek Desai, managing trustee of Navajivan Trust, which holds the rights of publication of literature related to Gandhiji, said.  
The nineteen volumes will be reprinted for the first time, he said, and will be officially inaugurated today.  
The aim of reprinting and republishing 'Harijan', Desai said, is to spread among people the messages and great articles written by Gandhiji, other freedom fighters fighting the cause of independence at that time.  
The reprinted version of Young India, another weekly newspaper, was brought out some 20 years back, Desai said.  
Navajivan Trust was founded by the Gandhi along with Mohanlal Maganlal Bhatta and its deed of trust was registered on November 26, 1929.
Gandhi began publishing Harijan, a weekly newspaper, in English in 1933. It lasted until 1948.
During this time, Gandhi also published Harijan Bandu in Gujarati, and Harijan Sevak in Hindi. All three papers focused on India's and the world's social and economic problems during the freedom struggle.
Harijan means "Child of God", and was a term used by Gandhi for people of Dalit caste.
Young India was a weekly paper in English published by Gandhiji from 1919 to 1932. Gandhi wrote various quotations in this journal that inspired many.
He used Young India to spread his unique ideology and thoughts regarding the use of non-violence in organising movements and to urge readers to consider, organise, and plan for India's eventual independence from Britain.