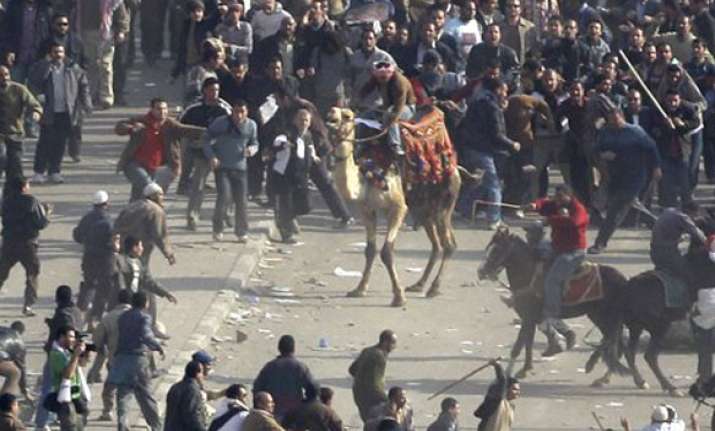 New Delhi, Feb 2 (PTI) Plans for many Indian tourists to click a picture in front of the Pyramid, a cruise down the river Nile are coming unstuck due to the political crisis in Egypt and according to travel agents, cancellations are pouring in.
"Due to the crisis, customers have cancelled their travel plans to Egypt, which is a favoured destination for many people, especially those travelling for honeymoon during this time," Yatra.com Co-Founder Sabina Chopra told PTI.
She said, on an average about 600 bookings are done in a year for Egypt by her company. "We are making bookings for Europe and Far East instead, for those who cannot go to Egypt right now," she added.
According to Chopra, the peak season starts from April every year, when families flock to Egypt.
"But with the current situation in the country, we are not making any bookings right now," she added.
A seven day package to the country costs anywhere between Rs 50,000 to Rs 60,000 per person, including site seeing, air tickets, meals and is very popular, according to Chopra.
According to Pearl International Tours and Travel Executive Director Arjun Seth, the crisis has not only impacted travel to Egypt, but also to nearby countries.
'Last year we did 300-350 bookings for Egypt, and had expected a substantial increase in that number this year, but with the prevailing situation, I expect at least 80 per cent cut in the number of travellers," Seth said.
Expressing similar sentiments, STIC Travel Group Chairman Subhash Goyal said:"Egypt had become a very popular destination for Indian outbound travellers...but unfortunately because of the current situation, virtually all the leisure travel bookings have been cancelled or postponed for an indefinite period."
He said his company makes about 500-600 bookings per year for Egypt.
In November 2009, Egyptian Tourism Authority had appointed Bollywood actor Celina Jaitley as as a brand ambassador to promote Egypt as a tourist destination in India.
The North African country is currently in a state of flux as a large numbers of protesters have taken to the streets of Cairo and other cities of the country demanding the end to President Hosni Mubarak's 30-year rule.
The country, one of the oldest civilisations, is popular among tourists for Pyramids, ancient monuments like the Sphinx, Red Sea scuba diving, hot night spots and most importantly romantic cruises down the river Nile. PTI