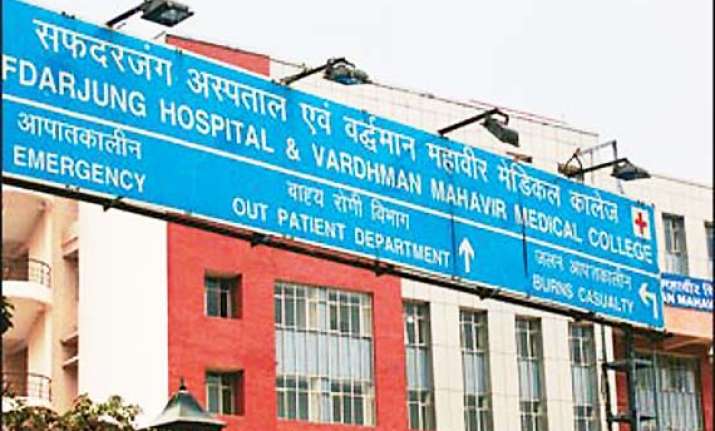 New Delhi, Dec 28: The 23-year-old delhi gangrape victim while being ferried in an air ambulance from Delhi to Singapore battled for life at 30,000 ft high, when her blood pressure suddenly dipped alarmingly, a media report said.
The girl, the Times of India report said, went into a near collapse on Wednesday night inside the aircraft, and critical care specialists Dr P K Verma of Safdarjang Hospital and Dr Yatin Mehta from Medanta Medicity Hospital had to create an arterial line to stabilize her.
An arterial line is a thin catheter inserted into an artery - used mainly in intensive care - to monitor blood pressure real-time, rather than by intermittent measurements.
The report quoted Dr M C Mishra, chief of AIIMS' trauma centre  as saying: "We had explained to the girl's family the potential risks of transporting her to Singapore.
She could suffer a cardiac arrest or her blood pressure could fall alarmingly. After discussions, we took a calculated risk by creating an arterial line."
Dr Mishra added: "Monitoring blood pressure from the arms can sometimes give false readings up to 20 mm which could be critical in such a delicate case.
Dr Verma is well versed with hemodynamics (study of blood flow) and is very well aware of Nirbhaya's condition while Dr Mehta is highly experienced. They did a great job."
The rape victim was wheeled into Mount Elizabeth hospital at 9.10am (Singapore time). She underwent a full CT scan and was taken to the intensive care unit.  
Dr Mishra says,  doctors in Singapore have told him that Nirbhaya's blood pressure is now under control and her condition although critical, was stable.  
Despite all the complications, her fighting spirit remains unbowed and she is bravely battling on.
Dr Kelvin Loh, Mount Elizabeth Hospital CEO, was less reassuring. He said in a medical bulletin at 7pm on Thursday that Nirbhaya's condition "remains extremely critical".  
The team of Indian doctors that reached Singapore on Thursday morning also informed that Nirbhaya's ejection fraction (EF) - an important measurement in determining how well your heart is pumping out blood and in diagnosing and tracking heart failure - has dropped to 25%. Normal EF is around 70%.
"When Nirbhaya left yesterday for Singapore, her EF count was around 50%. On reaching Singapore, her EF dropped to almost 25% which means her heart condition has been deteriorating.
A normal heart's ejection fraction is around 70%," a source in Safdarjung hospital told TOI.
Doctors also fear serious neurological damage to Nirbhaya's brain as doctors could not find her pulse and blood pressure for nearly three minutes on Wednesday when she suffered a cardiac arrest.
"Doctors in Singapore conducted a full body CT scan on Thursday. They are also looking at any neurological damage that could have resulted from the cardiac arrest. She is under heavy sedatives," doctors at Safdarjung hospital said.
Only one out of the entire team of doctors in Safdarjung Hospital which worked for  the past 11 days was allowed to accompany the girl to Singapore.