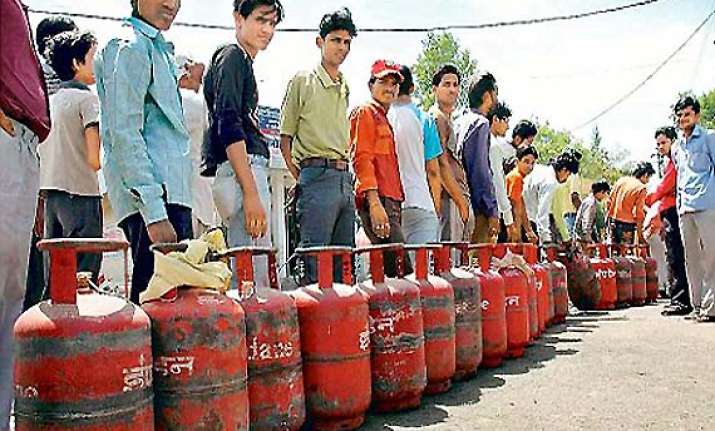 New Delhi, Dec 11: Weeks ahead of rollout of the direct cash subsidy transfer scheme, the Petroleum Ministry today said the plan will not be easy to implement because of the low base of people with the unique identity Aadhaar cards.
The government has identified 51 districts for the rollout of the scheme in the first phase beginning January 1.
Speaking at the 11th Petro India Conference organised by India Energy Forum and Observer Research Foundation, Oil Secretary G C Chaturvedi said direct cash transfer is "a very good concept as will check a lot of pilferage that is currently taking place in marketing of cooking gas (LPG)."
The scheme involves government transferring cash subsidy of Rs 520.50 in bank accounts of LPG consumers and asking them to buy their LPG at market price of Rs 931 per cylinder.
Presently, oil companies sell LPG at subsidised rates of Rs 410.50 per cylinder in Delhi and the difference between the cost and price realised is made good by subsidy doleout to them.
This has led to subsidised LPG being diverted to unintended use like commercial establishments who are otherwise supposed to buy gas at market price.
"But the cash transfer is not easy as Aadhar penetration is very low. Only 20 crore population has been enrolled for Aadhaar out of the population of 120 crore," he said.
"Rolling out direct cash transfer in districts Aadhaar penetration of less than 80-90 per cent will be difficult. We cannot make Aadhaar for cash transfers as the basis in such places."
He said the direct cash transfer for LPG will be first implemented in 20 districts and the remaining 31 districts will be covered in February or March.
"Earlier UIDAI had said they will reach 80 per cent penetration in the 31 districts by April but now they say they will expedite the process, so may be in February can be launch the scheme in those districts," he said.