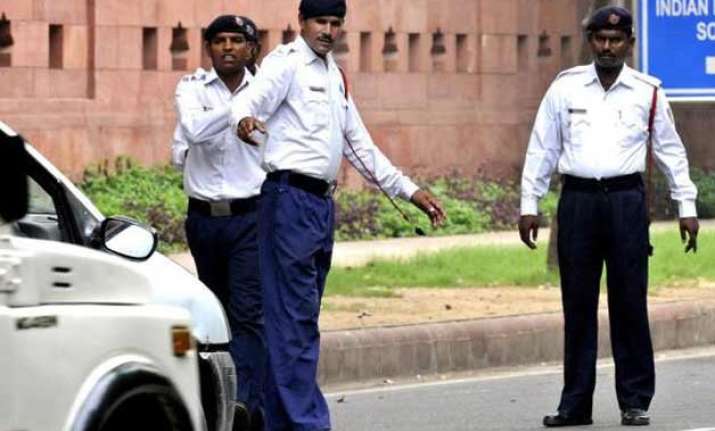 New Delhi: Traffic snarls are expected in the city for the next two days in view of major arrangements for VVIP movements during the India-Africa summit, even as Delhi Traffic police today said that they have developed the best strategy to keep the capital congestion free.  
Several parts of Lutyens' Delhi and Central Delhi - including India Gate C-Hexagon - will be restricted during the peak hours on both the days.
Also major roads like Sardar Patel Marg, Lala Lajpat Rai Marg and Aurobindo Marg will be made out of bounds for general public every now and then in view of VIP movements, said a senior traffic official.  
"We have taken the best measures to keep Delhi congestion free. However, there is no harm in starting your journeys a little in advance," said Special Commissioner of Police (Traffic) Muktesh Chander.
The traffic plan for the summit shows that India Gate C-hexagon will be off limits for at least two hours while dignitaries head to Rajghat and the trade fair at Pragati Maidan. Other roads being used by the delegates will be closed for around 40 minutes.
Teen Murti Marg, Akbar Road, Tees January Marg, Rajesh Pilot Marg, Subrahmaniam Bharti Marg, Mathura Road and Bhairon Marg will remain closed between 5.30 pm and 10.00 pm tomorrow, the official said.
Ashoka Road, Akbar Road, Teen Murti Marg and Sardar Patel Marg will be closed on both days.
Also no traffic will be allowed on Amrita Shergil Marg, Max Muller Marg, Maharishi Raman Marg and Arch Bishop Makrious Marg on both days of the summit.
The Ring Road stretch between Sarai Kale Khan and Shanti Van will be closed between 8 am and 10 am and again from 4 pm to 8 pm on Thursday.
Commuters moving towards north can divert from Nizamuddin Bridge and turn from Akshardham towards Pushta Road. Then they can again join the route near Kashmere Gate ISBT through the Geeta Colony flyover, said Joint Commissioner (Traffic) Sandeep Goel.
He added that, another possible diversion would be opting for the upper ridge road and head towards Karol Bagh, and then move towards north.
Commuters should avoid Barapullah Road, Lodhi Road, Safdarjung Road, Kamal Ataturk Marg, Mother Teresa Crescent for east-west movement across the city, police said.  
Commuters have also been advised to use C-Hexagon-Akbar Road-Maulana Azad Road to reach North or South Block from India Gate or C-Hexagon-Ashoka Road-KG Marg to reach Gole Dakkhana and Connaught Place.
People heading towards the Airport can use Shanti Path or RTR Marg. There shall also be no restrictions en route to New Delhi and Old Delhi Railway Stations, traffic officials added.