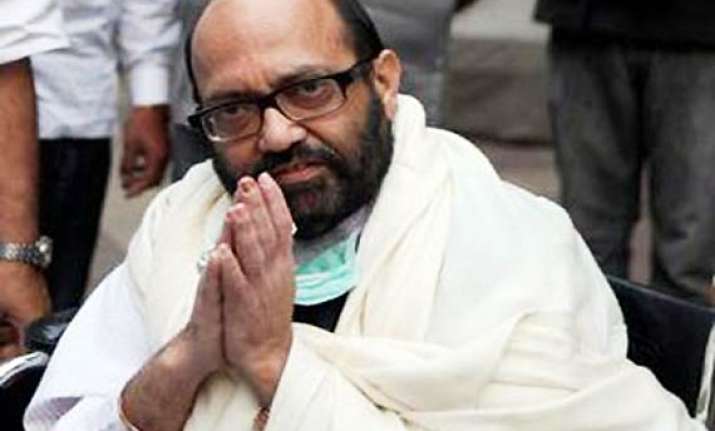 New Delhi, Dec 7: A witness in the 2008 cash-for-vote case today told a Delhi court that city police was adopting "double standards" and giving a green signal to Rajya Sabha MP Amar Singh that he would be let off in the scam matter.

Hasmat Ali, who claimed that the cashscam hinges on his testimony as a witness, has sought the court's direction for registration of an FIR against Singh alleging he was kidnapped on September 25, 2008, the scheduled day of his deposition before the Parliamentary inquiry committee probing the scam. 

"Police is giving a green signal to Amar Singh that they are not believing my statement (of being kidnapped) and so he (Singh) will be discharged in the cashscam," Ali's counsel L K Verma told Metropolitan Magistrate Sudesh Kumar. 

The magisterial court reserved its order for December 12 on the complaint of Ali who is seeking registration of the FIR against Singh and two others.

Police was relying on his statement in the cash-for-vote case and simultaneously, it was disbelieving his complaint that he was kidnapped, Ali's lawyer said. 

He said that crime branch has given a clean chit to Singh, his secretary Tarun Goel and aide Ramesh Kumar for their role in kidnapping his client whereas they are "solely relying" on Ali's statement in the cash-for-vote case. 

"Crime branch of Delhi police is accepting all my (Ali) statement in the cash-for-vote case but here they say there was no kidnapping. It is simply double standards. Have they interrogated any person? Whether Amar Singh was interrogated?.  "Prima facie, a case of kidnapping is made out and it has to be thoroughly probed and accused (Singh, Goel and Kumar) have to be interrogated. I pray that police be directed to register an FIR," he said.

Ali was one of the eye-witnesses when payments were made to the BJP MPs in July 2008 allegedly by Amar Singh and the entire cash-for-vote scam case was based upon his testimony, his lawyer said.

He said Ali was called by the parliamentary enquiry committee to depose before it and due to this, his client was first offered money and then threatened not to appear before the panel.

After he refused to do so, Ali was kidnapped from Khan Market here by Goel and Kumar and was taken to official residence of Singh where he was "slapped and abused", the lawyer said.

On a status report filed by police on his complaint, he said the investigating agency was relying on the statement of a beat constable and a local shopkeeper who have not seen that any person was kidnapped on that day.

"When Ali was asked by Goel and Kumar to sit in their car and they kidnapped him at gunpoint, then how could anybody see that he was forcibly kidnapped?" he said. 

The counsel said police has not tried to trace the mobile phone of Ali which was snatched by Amar Singh and even there was no answer as to how Ali's car was recovered from the parking of Khan market.

"Has police done anything to recover the mobile (of Ali)?  What was the location of mobile phones of Goel and Kumar on that day? It is to be probed by the police," he said.  Ali cannot produce any evidence in support of his allegations as he was all alone when he was kidnapped, the lawyer said.

Even the weapon which was used to kidnap Ali has not been traced and still he is receiving threat calls to withdraw his complaint against Singh, he said.