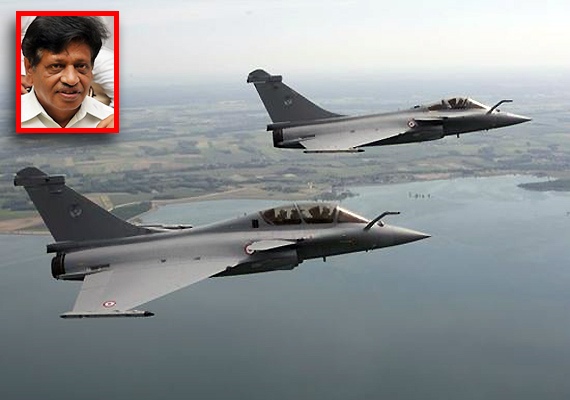 New Delhi, Mar 23 : A Telugu Desam MP from Rajya Sabha M V Mysura Reddy, who is member of Parliament Standing Committee on Defence has raised the red flag over the evaluation process that led to the emergence of French jetfighter Rafale as the lowest bidder for the $ 20 billion deal, reports Hindustan Times.
Following his letter, Defence Minister A K Antony has asked his ministry to ascertain facts on the evaluation process, the HT report says.
In his letter, Reddy has alleged irregularities in the evaluation process. He asks why the French jet fighter Rafale, which has not been bought by any other country, has been chosen for the Indian Air Force.
In his letter, he points to Rafale's performance in the recent Nato air campaign in Libya against Gaddafi's forces, sayng "the Rafale failed in precision bombing".
Reddy's letter quotes from unspecified news reports about alleged irregularities, says the HT report.
"The ministry...must ensure...there has been no manipulation in the evaluation process", says reddy's letter dated Fenruary 27.
In his reply two days later, Antony writes; "I have asked the ministry to examine all the points raised by you."
Antony has forwarded Reddy's letter to defence secretary Shashi Kant Sharma for getting the matter examined. The defence ministry then sent the letter to Ranjan Kumar Ghosh, joint secretary (air) acquisition manager, and chairman of the contract negotiating commitee (CNC).
Antony has publicly told ministry and defence officials that he would not hesitate in cancelling a deal if any irregularities were brought to his notice.
"We will examine all the points raised in the letter...but the work on CNC is not complete", a senior defence ministry official told HT.
As of now, the CNC has not shared its findings on questions relating to the evaluation process with either the defence secretary or Antony.
The Rafale emerged the lowest bidder in the deal for the supply of 126 fighters to the IAF on the basis of extensive trials and complex calculations, including unit cost, life cycle cost and transfer of technology.