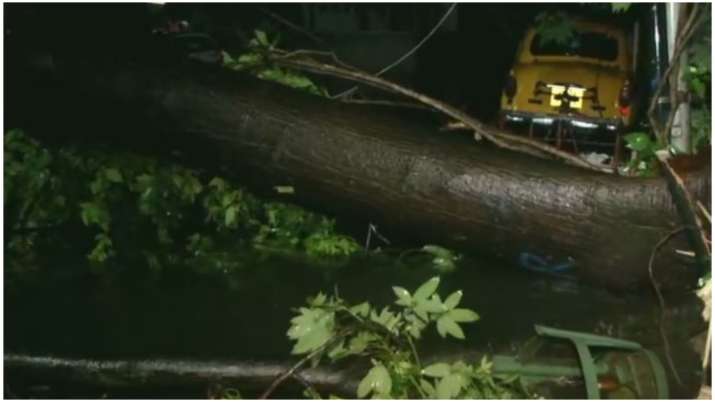 Cyclone Amphan: The Cyclone made landfall near Digha in West Bengal on Wednesday afternoon. By Wednesday night, the cyclone caused widespread devastation in West Bengal and Odisha and claimed 3 lives.
It is the second super cyclone on record that has formed over the Bay of Bengal, said Mrutyunjay Mohapatra, India's meteorological chief. The first was a devastating 1999 cyclone in Odisha state that left nearly 10,000 people dead. "Six teams have been deployed in South 24 Parganas, four teams each in East Midnapore and Kolkata, three teams in North 24 Parganas and one team each in Hooghly and Howrah," Nishit Upadhyay, NDRF 2nd Battalion Commandant said.
Cyclone Amphan Live Updates
West Bengal Chief Minister Mamata Banerjee said that 10 to 12 persons have lost life in the devastation caused by Cyclone Amphan.
Streets in Kolkata are getting waterlogged and damage to property and foliage is taking place.
West Bengal: Streets in Kolkata waterlogged, trees uprooted and houses damaged due to strong winds and heavy rain as #Amphan crossed West Bengal-Bangladesh coast between Digha (West Bengal) and Hatiya Islands (Bangladesh) across Sunderbans, between 1530 and 1730 hrs today. pic.twitter.com/obYlwiW9TO

— ANI (@ANI) May 20, 2020
Cyclone Amphan is causing destruction in the countryside as it is inching forward.
Cyclone Amphan is leaving a trail of destruction in its wake.

Visuals below are obtained from #Hooghly District in #WestBengal

via @indiatvnews #CycloneAmphanUpdate #CycloneAmphanUpdates pic.twitter.com/wicAYTvsYk

— Manas Joshi (@ManasJoshi) May 20, 2020
Hooghly District is experiencing heavy rainfall
Cyclone Amphan has claimed 2 lives in West Bengal so far. Here are some latest visuals from #Hooghly District in #WestBengal

via @indiatvnews #CycloneAmphanUpdate #CycloneAmphanUpdates #CycloneAmphan pic.twitter.com/PR3vdAJ0Jp

— Manas Joshi (@ManasJoshi) May 20, 2020
Two people killed in West Bengal due to cyclone Amphan.
Kolkata, Hooghly, and Howrah to suffer damage due to Cyclone Amphan.
Winds are gusting up to 120 km per hour in Kolkata and Howrah
"Cyclone Amphan is expected to move towards Northeast of its current location. It is expected to reach Kolkata this evening," says IMD DG.
Winds are gusting up to106 km per hour in Paradeep in Odisha.
"More than 5 Lakh people have been evacuated in West Bengal and 1,58,640 people in Odisha," said NDRF DG
"If 4 or more NDRF teams have been stationed at a location, it means that the area is expected to receive considerable damage," SN Pradhan, NDRF DG
There is info about 1 casualty in Bhadrak. Medical and admin team proceeded to the village to inquest, after which exact cause of death can be decided by Collector. Another death occurred yesterday. It is not cyclone related death as of now: PK Jena, Special Relief Commissioner
Cyclone Amphan has moved down its originally forecasted path. It has already crossed Paradip, Kendrapara, Dhamra, and right now it is at sea adjoining Balasore. Maybe in another 3 hours, it will make landfall, says Pradeep Kumar Jena, IAS Special Relief Commissioner
The landfall process commenced since 2:30 PM, will continue for about 4 hours. The forward sector of the wall cloud region is entering into land in West Bengal
Wind speed has picked up near coastal Odisha and is blowing at around 100 kmph at Paradip. Wind is not that strong in West Bengal. Odisha has evacuated nearly 1.5 lakh people from Balasore & Bhadrak & West Bengal has evacuated over 3.3 lakh people: NDRF Chief SN Pradhan on Amphan
Indian Navy is on high alert for Cyclone Relief Efforts on the East Coast.
The cyclone is about 200 kms from India's east coast.
Cyclone ]Amphan to move north-northeastwards and cross West Bengal-Bangladesh coast between Digha & Hatiya close to Sunderbans during afternoon to evening today with a wind speed of 155-165kmph gusting to 185 kmph.
Indian Coast Guard ships and aircraft are kept at stand by for deployment to undertake area scan, search & rescue and relief efforts.
Cyclone Amphan current position
"Cyclone Amphan is over the Bay of Bengal near latitude 18.4°N & longitude 87.1°E. Cyclone Amphan is currently about 210 km nearly south of Odisha's Paradip. The extremely severe storm will cross West Bengal-Bangladesh coasts between Digha (WB)& Hatiya Islands (Bangladesh) close to Sundarban," IMD said. 
125 KM NEARLY EAST-SOUTHEAST OF PARADIP.
225 KM SOUTH OF DIGHA.
380 KM SOUTHWEST OF KHEPUPARA (BANGLADESH) 
(IMD 8 am Update)
Cyclone Amphan Forecast Movement 
Amphan's winds were whirling as far as 700 kilometers (435 miles) from its eye as it approached land. It is forecast to pass between the seaside resort town of Digha in India's West Bengal state and Hatiya Island in Bangladesh with a weaker wind speed of 165 to 175 kph (102-108 mph). ​
Cyclonic storm Amphan will move North-NorthEastwards and cross West Bengal-Bangladesh coast between Digha and Hatiya close to Sunderbans during afternoon to evening of today with a wind speed of 155-165 kmph gusting to 185 kmph. Wind forecast for coastal Odisha is 100 to 110 kmph gusting to 125 kmph along and off Jagatsinghpur, Kendrapara and Bhadrak districts till afternoon and over Balasore district till evening.​
Cyclone Amphan Strength 
Even if it weakens, the cyclonic storm is about to bring winds of 180 kmph to 195 kmph. Kolkata, Hooghly and the adjoining areas are tipped to receive strong winds and heavy rainfall even if the monstrous cyclone loses its steam. "The effect of the cyclone is expected to be felt from 12 noon on Wednesday. The edge of the storm is expected to touch land around 2pm and the entire system should pass through by 9pm," Kolkata-based daily The Telegraph reported quoting Met officials.
#WATCH Odisha: Strong winds of up to 82 km/ph speed hit Paradip. #CycloneAmphan is expected to make landfall today. pic.twitter.com/8bgyZ2Augq

— ANI (@ANI) May 20, 2020
Meanwhile, Bengal on Tuesday mounted one of its biggest evacuation exercises by moving more than 3 lakh people to safer places as the extremely severe cyclonic storm 'Amphan' roared towards the coastal areas of the state, officials said.
The Meteorological (MeT) Department has issued an "orange message" for West Bengal and warned of extensive damage in Kolkata, Hooghly, Howrah, South and North 24 Parganas and East Midnapore districts.
The impending cyclone has already triggered mild to medium rainfall in several parts of the state. 
The MeT Department has advised all establishments and markets to remain closed in the city and adjoining areas and restrictions on movement of people on May 20.
There are high chances of disruption of rail and road link at several places, uprooting of communication and power poles, extensive damage to all types of kutcha houses and some damage to old poorly managed pucca structures and the potential threat from flying objects, the weatherman said. 
There is also a likelihood of extensive damage to standing crops, plantations and orchards and blowing down of palm and coconut trees, the MeT office said.
Chennai: Turbulent waves crash into the coast Kasimedu Fishing Harbour, ahead of landfall by Cyclone Amphan, in Chennai, Tuesday, May 19, 2020
Also Read | Cyclone Amphan: Assam issues 'high alert', sets up control room
Also Read | Cyclone Amphan and Covid 19: NDRF gets ready to tackle dual calamities​
​