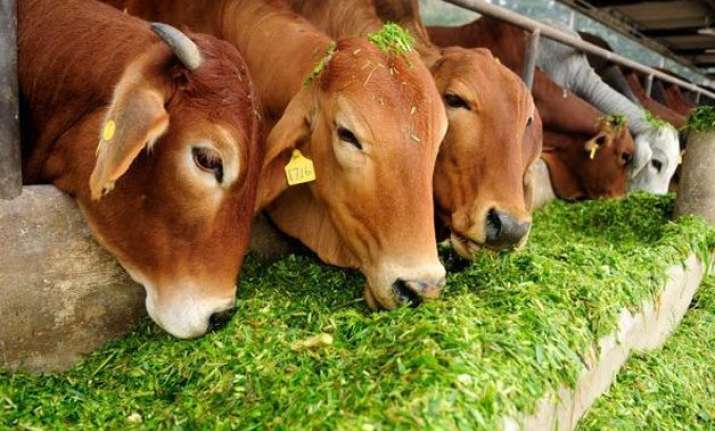 New Delhi: Cows, considered sacred by Hindus, have been at the centre of debate in the country for a long time. The lynching of a 50-year-old man in Uttar Pradesh's Dadri over the rumour that he and his family had slaughtered a calf and stored its meat, has stirred the debate once again.
India, being a union of states has different laws for cow and cattle slaughter in different states. While some states have completely banned slaughter of cattle including bulls, bullocks and buffalo, some haven't even banned cow slaughter.
In total, there are eight states and union territories where cow slaughter and sale of its meat is legal, two states where slaughter is conditional and sale is legal. Other 26 states and union territories in India have banned cow slaughter.
Let's have a look at what the law says about cow slaughter in different states:
No ban on cow slaughter:
There are no laws against cow slaughter in Arunachal Pradesh, Tripura, Lakshadweep, Kerala, Meghalaya, Mizoram and Nagaland.
There is no state legislation against cow slaughter in Manipur but a proclamation by the Maharaja in the Durbar Resolution of 1939 which states, "According to Hindu religion the killing of cow is a sinful act. It is also against Manipur Custom. ... if any one is seen killing a cow in the State he should be prosecuted."
There is no clear law for cow slaughter in Sikkim but slaughter of cows and sale of its meat is quite common in the state.
Complete ban on cow slaughter:
Haryana and Maharashtra have implemented complete ban on beef with provisions of rigorous punishments for those who break the law. In Maharashtra, slaughter, possession and consumption of beef (cow, calf, bulls, bullocks, buffalo) is illegal with maximum punishment of upto 5 years and a fine of Rs 10,000.
Haryana, Himachal Pradesh, Punjab and Rajasthan also have complete ban on cow slaughter that extends to calves, bulls, bullocks and other cow progeny.
Partial ban on cow slaughter:
Assam and West Bengal have legalised cow slaughter with certain conditions that the cattle must get "a "fit-for-slaughter" certificate, only issued if the animal is over 14 years of age and unfit for work or breeding or has become permanently incapacitated for work and breeding due to age, injury, deformity, or any incurable disease."
Goa has banned cow slaughter. However, for medical research purposes and in case the Cow is suffering pain or contagious disease, slaughter of the animal is allowed.