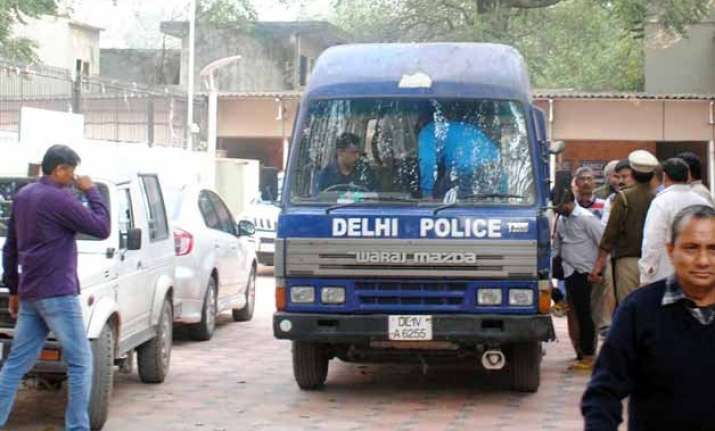 New Delhi: Delhi Police on Friday arrested two more in connection with leak of 'confidential' official documents including Finance Minister's Budget speech from the Petroleum Ministry, taking the toll of detained accused to 12.
The two energy consultants Santanu Saikia, a former journalist, now running a petro web portal and Prayas Jain, CEO of oil and gas consultancy Metis India, were arrested after police suspected that they received the stolen documents.
Saikia and Jain are among seven persons who were arrested yesterday that include executives from five leading energy companies and a former journalist. The five executives are: Shailesh Saxena (Manager, corporate affairs, RIL), Subash Chandra (Senior executive, Jubiliant Energy), Rishi Anand (DGM, Reliance ADAG), Vinay (DGM, Essar) and KK Naik (DGM, Cairns India).
"We have arrested two people, one of them is Santanu Saikia and the other is Prayas Jain. Both of them are some sort of independent consultants. One of them (Saikia) runs a website where he would run his analysis and people would subscribe to it. These to have been arrested and investigation is on," Police Commissioner BS Bassi said.
All the seven were produced before Chief Metropolitan Magistrate Sanjay Khanagwal who remanded Lalta Prasad and Rajesh Kumar (Oil Ministry staffers) and Jain and Saikia to police custody till February 23 after police said 'sensitive' documents have been recovered.
Regarding the other three accused--Ishwar Singh, Asharam and Rajkumar Chaubey, the police said they were not required for custodial interrogation, so they be remanded in 14-day judicial custody.
On Thursday, police had arrested five persons, including two Oil Ministry staffers and three middlemen.
Sources said two senior officials from the ministry were also under the scanner.
The FIR, produced in a local court, said an input on the National Gas Grid for the Finance Minister's budget speech of 2015-16 is among the various 'secret' documents recovered from the accused.
Besides, police has also recovered a letter of Prime Minister Narendra Modi's Principal Secretary Nripendra Misra.
"Photocopy of documents with heading input material on National Gas Grid for inclusion in Finance Minister's budget speech 2015-16," the FIR said.
Police alleged that incriminating documents of the Coal, Power and other ministries were recovered from the possession of the accused who were supplying these to certain corporate houses for benefit.
Police sources claimed that two sacks full of photocopied documents were recovered by them during raids at offices and residences of those arrested in this connection so far.
Police and experts from different ministries are still in the process of examining the documents found from them to see what all kind of documents were stolen.
Yesterday, police took five of the accused to the Petroleum Ministry. They were taken to the rooms of senior officials which they had allegedly accessed using duplicate keys. They accessed the rooms of joint secretary (Refineries), joint secretary (Exploration) and rooms of some directors in the middle of the night to steal official documents.
Sources said the ministry was first alerted about the theft of official documents some months ago when some critical documents with the then Joint Secretary (Exploration) Giridhar Armane, were found in a photocopier machine when rooms were opened in the morning. The ministry internally probed the issue.