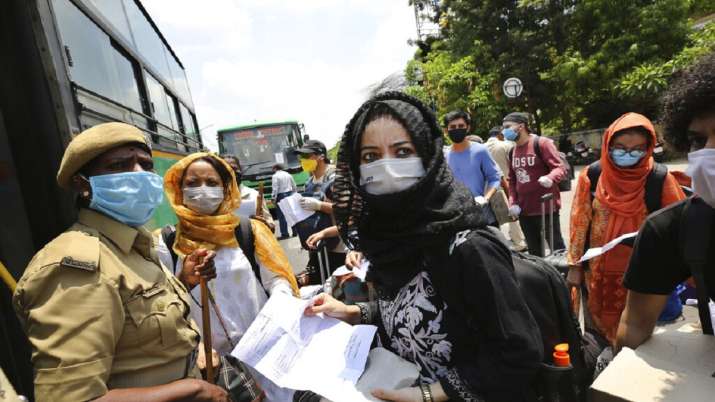 Coronavirus cases in India are nearing 86,000-mark taking positive patients toll to 85,940 including 2,752 patients while 30,153 have recovered, according to health ministry's figures released on Saturday. The nation is under the second extended lockdown period, imposed till May 17 but likely to be extended further, however, some more relaxations may be provided in the next phase of lockdown.
Prime Minister Narendra Modi in his Tuesday's address had said that the lockdown will be further extended but this time it will completely different from the earlier phases. Meanwhile, Delhi chief minister Arvind Kejriwal has also said that the lockdown will be extended further but with some more relaxations.
India is now registering over 3,000 cases per day, which has become a concern for the health authorities and the government. According to Worldometer figures, India is currently at the 12th spot of having maximum number of coronavirus cases.
State-wise list of COVID-19 cases, deaths in India
| Name of State / UT | Total Confirmed cases* | Cured | Deaths** |
| --- | --- | --- | --- |
| Andaman and Nicobar Islands | 33 | 33 | 0 |
| Andhra Pradesh | 2307 | 1252 | 48 |
| Arunachal Pradesh | 1 | 1 | 0 |
| Assam | 90 | 41 | 2 |
| Bihar | 1018 | 438 | 7 |
| Chandigarh | 191 | 37 | 3 |
| Chhattisgarh | 66 | 56 | 0 |
| Dadar Nagar Haveli | 1 | 0 | 0 |
| Delhi | 8895 | 3518 | 123 |
| Goa | 15 | 7 | 0 |
| Gujarat | 9931 | 4035 | 606 |
| Haryana | 818 | 439 | 11 |
| Himachal Pradesh | 76 | 39 | 3 |
| Jammu and Kashmir | 1013 | 513 | 11 |
| Jharkhand | 203 | 87 | 3 |
| Karnataka | 1056 | 480 | 36 |
| Kerala | 576 | 492 | 4 |
| Ladakh | 43 | 22 | 0 |
| Madhya Pradesh | 4595 | 2283 | 239 |
| Maharashtra | 29100 | 6564 | 1068 |
| Manipur | 3 | 2 | 0 |
| Meghalaya | 13 | 11 | 1 |
| Mizoram | 1 | 1 | 0 |
| Odisha | 672 | 166 | 3 |
| Puducherry | 13 | 9 | 1 |
| Punjab | 1935 | 305 | 32 |
| Rajasthan | 4727 | 2677 | 125 |
| Tamil Nadu | 10108 | 2599 | 71 |
| Telengana | 1454 | 959 | 34 |
| Tripura | 156 | 42 | 0 |
| Uttarakhand | 82 | 51 | 1 |
| Uttar Pradesh | 4057 | 2165 | 95 |
| West Bengal | 2461 | 829 | 225 |
| Cases being reassigned to states | 230 |   |   |
| Total number of confirmed cases in India | 85940# | 30153 | 2752 |
ALSO READ | Top cigarette maker claims to have developed coronavirus vaccine, says it's ready for human trials
ALSO READ | For the first time, India has more coronavirus cases than China
​