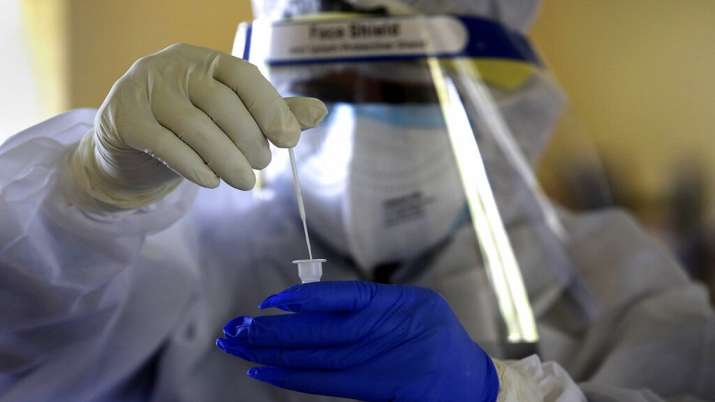 Coronavirus cases in India have crossed 6.73 lakh-mark taking confirmed patients toll to 6,73,165 including 2,44,814 active cases, 4,09,083 recovered and 19,268 deaths, according to health ministry's figures released on Sunday.
On Saturday, with staggering 7,074 new coronavirus cases in a day, Maharashtra's total tally crossed the 2-lakh mark apart from a record daily high of 295 deaths, health officials said. The number of fatalities in the state shot up from the June-lowest of 62 to 295 -- highest ever after the earlier daily high of 248 deaths notched on June 23.
Meanwhile, the number of COVID-19 cases in Gujarat crossed the 35,000 mark as the state reported its highest single-day spike of 712 new infections on Saturday, health officials said. The fresh cases pushed the virus count to 35,398 in the state, it added.
State-wise list of coronavirus cases, deaths in India
| Name of State / UT | Active Cases* | Cured | Deaths** | Total Confirmed cases* |
| --- | --- | --- | --- | --- |
| Andaman and Nicobar Islands | 53 | 66 | 0 | 119 |
| Andhra Pradesh | 9473 | 8008 | 218 | 17699 |
| Arunachal Pradesh | 182 | 76 | 1 | 259 |
| Assam | 3997 | 6657 | 14 | 10668 |
| Bihar | 2925 | 8686 | 89 | 11700 |
| Chandigarh | 59 | 395 | 6 | 460 |
| Chhattisgarh | 598 | 2549 | 14 | 3161 |
| Dadra and Nagar Haveli and Daman and Diu | 175 | 96 | 0 | 271 |
| Delhi | 25940 | 68256 | 3004 | 97200 |
| Goa | 853 | 825 | 6 | 1684 |
| Gujarat | 7981 | 25406 | 1925 | 35312 |
| Haryana | 4031 | 12257 | 260 | 16548 |
| Himachal Pradesh | 331 | 704 | 11 | 1046 |
| Jammu and Kashmir | 2976 | 5143 | 127 | 8246 |
| Jharkhand | 687 | 2035 | 17 | 2739 |
| Karnataka | 11970 | 9244 | 335 | 21549 |
| Kerala | 2131 | 3048 | 25 | 5204 |
| Ladakh | 178 | 826 | 1 | 1005 |
| Madhya Pradesh | 2772 | 11234 | 598 | 14604 |
| Maharashtra | 83311 | 108082 | 8671 | 200064 |
| Manipur | 658 | 667 | 0 | 1325 |
| Meghalaya | 18 | 43 | 1 | 62 |
| Mizoram | 34 | 130 | 0 | 164 |
| Nagaland | 335 | 228 | 0 | 563 |
| Odisha | 2633 | 5934 | 34 | 8601 |
| Puducherry | 459 | 331 | 12 | 802 |
| Punjab | 1641 | 4306 | 162 | 6109 |
| Rajasthan | 3445 | 15640 | 447 | 19532 |
| Sikkim | 45 | 58 | 0 | 103 |
| Tamil Nadu | 44959 | 60592 | 1450 | 107001 |
| Telangana | 10487 | 11537 | 288 | 22312 |
| Tripura | 343 | 1202 | 1 | 1546 |
| Uttarakhand | 549 | 2502 | 42 | 3093 |
| Uttar Pradesh | 7627 | 18154 | 773 | 26554 |
| West Bengal | 6329 | 14166 | 736 | 21231 |
| Cases being reassigned to states | 4629 |   |   | 4629 |
| Total# | 244814 | 409083 | 19268 | 673165 |
ALSO READ | More people are getting cured at home, says CM Kejriwal over COVID-19 situation in Delhi