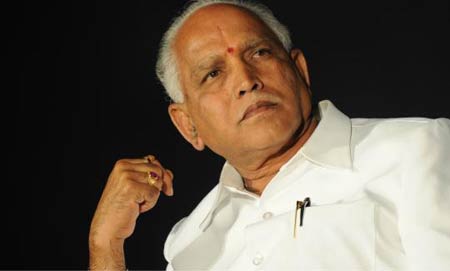 Bangalore: Karnataka CM B S Yeddyurappa's name has now appeared in more doubtful deals involving firms linked to his family. These firms reportedly received money from beneficiaries of land denotification and mining leases, either as advances or share application fees, says a Times of India report.
The TOI report said, documents  reveal how in three cases — one related to sanctioning a mining lease and two to denotification of plots — beneficiaries deposited Rs 6 crore, Rs 75 lakh and Rs 3.35 crore as advance and share application money in his family ventures.
Despite repeated disclaimers, the papers show Yeddyurappa did grant a mining lease. The notification was issued five weeks ago when he was facing a serious threat from rebels.
A couple of these family firms allegedly received Rs 6 crore as advance from one R Praveen Chandra who got mining leases, the documents show. On October 12, the state issued a notification granting iron ore and manganese mining leases on a 132.3 hectare tract at Ramajjanahalli Kaval and Mallapura villages, of Chitradurga district in Chandra's favour.
The mining area is perilously close to Vanivilas Sagar dam, which is an important source of irrigation and drinking water. The state government recommended granting of the lease in Chandra's favour to the Centre. Last year on September 25, the Karnataka mines and geology director wrote to the Union secretary of mines and sent him the checklist and sketches for approval of the proposal. His letter said that the state government had received five applications and Chandra had been recommended after a hearing and due process.
A state government notification dated October 12 this year said: "After obtaining prior government of India approval, the government of Karnataka hereby accords sanction for grant of mining lease for a period of 20 years in favour of R Praveen Chandra." There are records to show that two firms — Bhagath Homes Pvt Ltd (BHPL) and Davalagiri Property Developers Pvt Ltd (DPDPL) — owned by the CM's family received Rs 6 crore as advances from Chandra.
BHPL was incorporated on March 24, 2008 with an authorized capital of Rs 5 crore. It has the CM's son-in-law, R N Sohan Kumar, daughters-in-law Tejaswini Raghavendra, Manakara Prema and B V Bhramara, sister-in-law of the CM's son Raghavendra, as shareholders. As per the company balance sheet for the year ending March 31 last year, BHPL received Rs 2.5 crore from Praveen Chandra.
Similarly, DPDPL, which has the CM's sons B Y Vijayendra, B Y Raghavendra and son-in-law R N Sohan Kumar among its shareholders, received Rs 3.5 crore from Chandra, says the company's financial statement ending March 31, 2009. The same company balance sheet ending March 31, 2009 shows receipt of Rs 75 lakh from Trishul Developers.
Trishul Developers' managing director Prakash Shetty, who is also into the hospitality business, wrote to the CM on June 23, 2008, requesting him to denotify three plots which were subsequently acquired through a final notification in January 1995.