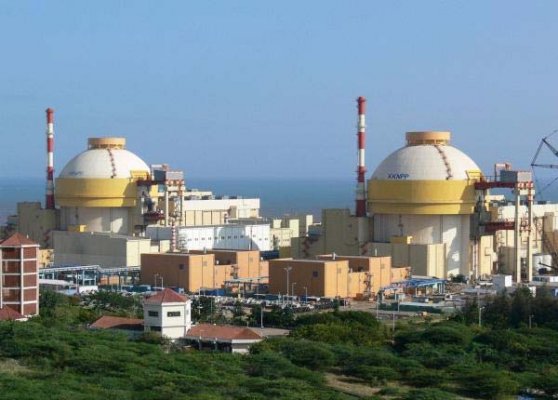 Chennai: Commercial operation of the first 1,000 MW unit at Kudankulam Nuclear Power Project (KNPP) has begun from yesterday midnight.
The unit is running at full capacity of 1,000 MW since December 10.
Of the 1000 Mega Watt electricity generated in the first unit, 562 will be given to Tamil Nadu, 221 MW to Karnataka, 133 MW to Kerala, 33 MW to Puducherry. The electricity will be sold at Rs 4 per unit.
India's atomic power plant operator NPCIL is setting up two 1,000 MW Russian reactors at Kudankulam in Tirunelveli district, 650 km from here. The total outlay for the project is over Rs 17,000 crore.
The first unit attained criticality, which is the beginning of the fission process, in July 2013. The unit has started power generation and has been connected to the southern grid.
The hot run of second unit will start from end of January after fulfilling technical requirements.
KNPP has been in controversy since its inception. Concrete work for units one and two of the KNPP started in March 2002 and July 2002, respectively. Local residents and various activist groups had protested over potential radiation threat and issues related to nuclear waste disposal by the plant.
The anti-Kudankulam campaign got intensified with Fukushima nuclear incident in Japan following the earthquake and tsunami there in 2011. It was alleged that KNPP is located in a tsunami prone area and more than one million people residing within the 30km radius of the nuclear power plant cannot be evacuated safely in the occurrence of any nuclear disaster.
The construction works at the project site were stopped in October 2011. The project works resumed in March 2012 with the permission of the Tamil Nadu government.
In May 2013, the Supreme Court dismissed the petitions by nuclear activists questioning the safety of the plant and granted the go-ahead for the commissioning of the first two units.
The top court had, however, asked the Atomic Energy Regulatory Board (AERB), NPCIL and the Department of Atomic Energy of India to ensure the safety of the plant and give final clearances before the start of commercial operation.