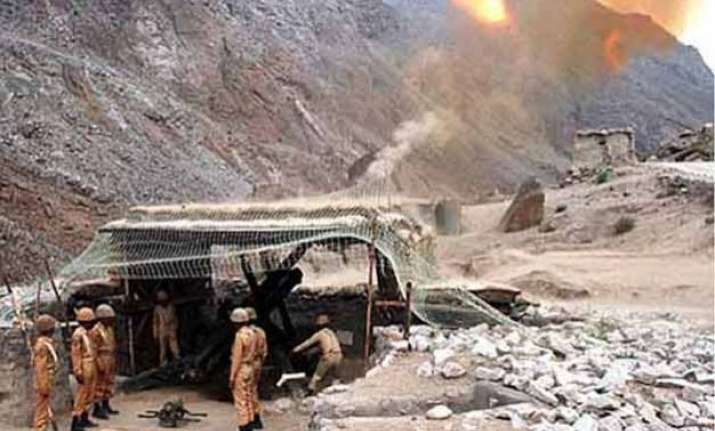 New Delhi: Pakistan continues to violate ceasefire along International Boarder (IB) in Jammu and Kashmir that has further aggravated border tension between the two countries.
According to some media reports, Pakistan Army has  replaced its rangers yesterday in most of the forward posts along International Border (IB) in Jammu and Kashmir. There is, however, no confirmation either from Indian or Pakistani side on this development.  
The Pakistani force, after a day's silence, on Monday resorted to heavy shelling by 82mm mortar and sophisticated weapons in Hiranagar and Samba sectors. They also used long range weapons to target civilians.
Several mortar shells landed as far as four kilometers inside the Indian territory. Reports say that mortar shells landed in the villages like Chakra, Sherpur, Lachipur and Londi in Hiranagar sector, which were located at a distance of over 3.5 kilometers from the border. A number of mortar shells fell inside houses of the people in forward villages. A mortar shell also exploded in the premises of Government Middle School, Sherpur.
According to some media reports, intelligence inputs have also suggested that the Rangers have been replaced by Pakistan Army to intensify the attack on Indian jawans.
Pakistani troops opened new front along the IB in Arnia sector Monday evening by firing two mortar shells followed by small arms firing.
Shelling and firing stopped in Samba sector at 5.30 pm but continued in Hiranagar sector till 8 pm. There was no firing in these two sectors after 8 pm.
This was also the first time that mortar shells landed four kilometers inside the border and exploded in villages.
Meanwhile, BSF Director General DK Pathak is rushing to border areas along the International Border in the wake of heavy shelling from the neighbouring side on Monday that left a jawan dead and caused damage to civilian infrastructure.
The martyred BSF jawan, Devinder Singh, was manning forward Khwara post in Samba sector, when he became the victim of intense shelling by Pakistanis.
There was no report of any civilian casualty so far in the shelling but a dozen of civilians were reported injured in the attack.
Four security personnel and a woman have been killed in the Pakistan shelling and firing during the last one week, officials had said, adding, five Pakistani Rangers and a girl were killed in retaliatory firing from the Indian side.
The number of people abandoning their homes in border villages of Jammu and Kashmir crossed 10,000 on Tuesday amid heightened tension following Pakistan shelling on the International Border.
"Following indiscriminate targeting of civilian areas along the international border by Pakistan yesterday (Monday), more people have abandoned their homes close to the border in Samba and Kathua districts," a senior official said.
"The number of villagers lodged in makeshift accommodations at safer places has crossed 10,000 and their migration is continuing today (Tuesday)," the official added.
On the other hand, Pakistan has claimed that Indian troops killed four civilians in the fresh cross-border firing, taking the death toll of civilians to five in three days.