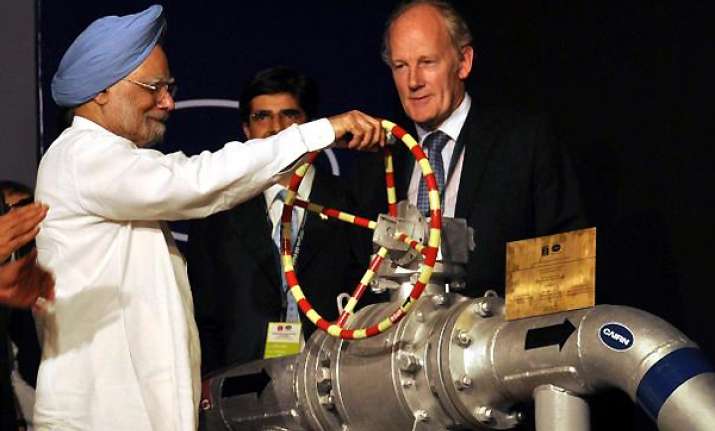 New Delhi, Apr 22: Cairn India's Rajasthan block is now estimated to hold a record 7.3 billion barrels of oil reserves that can produce 15 million tonnes of oil, the highest by any field in India, the company said.
The crown-jewel Rajasthan block is now estimated to hold discovered and yet to be discovered reserves of 7.3 billion barrels of oil equivalent, an increase of 12 per cent over previous estimate, the company said in its fourth quarter earnings announcement.
Of these, 3.1 billion barrels of reserves are yet to be discovered. Considering risk prospectivity, 530 million barrels have potential to be recovered.
Cairn India Managing Director and CEO Rahul Dhir said, "The ONGC-Cairn Joint Venture has reached a major milestone of achieving 175,000 barrels of oil per day production from Rajasthan" on April 20.
This production comprises of 150,000 bpd (7.5 million tonnes a year) from Mangala and 25,000 bpd from Bhagyam, the second biggest of 25 oil and gas finds in the Rajasthan block.
Production from Mangala, the largest onland oil field in India, was hiked by 20 per cent within a day of approval.
Cairn had on April 19 secured government approval for hiking Mangala output from 125,000 bpd to 150,000 bpd.
"Positive results of the enhanced oil recovery (EOR) pilot, re-evaluation of the exploration potential in Rajasthan along with the discovered resource support a basin production potential of 300,000 bpd," Cairn said.
Cairn is the operator of Rajasthan block with 70 per cent interest while state-owned Oil and Natural Gas Corp (ONGC) holds the remaining 30 per cent.
"We continue to add value and to contribute to our nation's energy security. Last year, we have reduced oil imports by USD 6 billion and have contributed USD 2.4 billion to the national exchequer," Dhir said.
Mangala field, the largest discovery in Rajasthan commenced production in August, 2009, following a period of five years from discovery to production. The field has consistently produced at its previously approved rate of 125,000 bpd for over one and a half years. Post higher offtake approval, production has been ramped up to 150,000 bpd.
Oil production from Bhagyam commenced on January 19, 2012 and is currently producing 25,000 bpd. Marginal oil field Raageshwari also commenced production on March 8, 2012 and is currently producing in excess of 250 bpd. The Saraswati field commenced production on May 27, 2011 and has produced over 75,000 barrels of oil till date.
"Since our last resource update in Rajasthan, we have completed another comprehensive review of the resource potential in the block. We have conducted detailed studies using advanced geoscience tools.
"DeGolyer and MacNaughton have also conducted an independent estimate of reserves and contingent resources, and have also reviewed the majority of the leads and prospects in prospective resources," Cairn said.
The potential resource for the block is now estimated to be 7.3 billion barrels of oil equivalent in place — an increase of over 12 per cent, it said.
"We believe this resource base can support 300,000 bpd, (equivalent to a contribution of about 40 per cent of India's current crude production) subject to further investments and regulatory approvals," Cairn said.
Over two billion barrels of oil place have been discovered in the Mangala, Bhagyam and Aishwariya fields, the three biggest in the Rajasthan block.