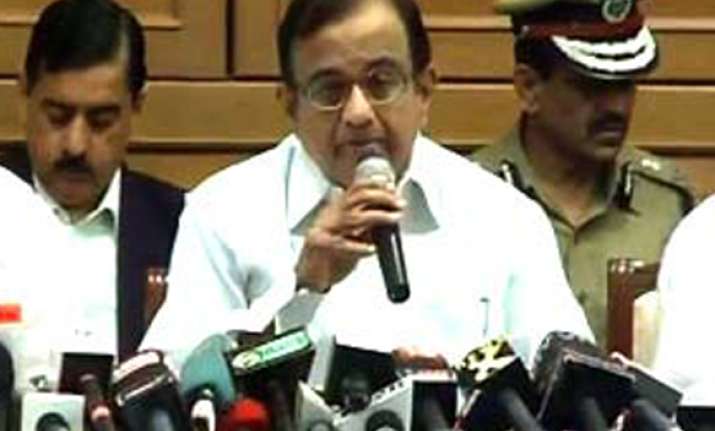 Mumbai, Jul 14 : After visiting the three blast sites in this megapolis, Home Minister P Chidambaram today said that it should be borne in mind that the Mumbai serial blasts have taken place after a gap of 31 months.  It is extremely difficult to police heavily populated areas and all our metropolitan cities  are targets, said the Home Minister.
 
Admitting that there was no credible intelligence input on the Mumbai attack, Chidambaram today did not rule out any angle, including the possibility of an attempt to derail Indo-Pak talks, behind the blasts.

Expressing "deep regret" to the people of Mumbai over the incident, he said the probe will not start on any "pre-determined assumptions" and will cover every terror group that has the capacity to carry out such strikes in the country.  Chidambaram said there was no intelligence failure on the part of Central and state agencies.


"There was no specific intelligence input on this...whenever there is an intelligence, we share it with the states," he told a 70-minute press conference here.  "We are not ruling out any angle. We will probe (the involvement of) every terror group...The investigations into the attack will not start on pre-determined assumptions," he said.

He was speaking after a high-level meeting with Maharashtra Chief Minister Prithiviraj Chavan and senior ministers and officials to review the situation in the wake of the serial blasts that left 18 people dead, including a severed head that is yet to be idenitified, and 131 injured. 


Union Home Ministry had officialy stated in its first bulletin last night that the death toll was 21.
Maharashtra chief minister Prithviraj Chavan announced an ex-gratia assistance of Rs 5 lakhs to each family of those killed in the serial blasts.
Asked whether the blasts were an attempt to derail the Indo-Pak talks later this month, Chidambaram said that every angle will probed in the case.

"I do agree that the Indo-Pak talks will be held this month, in ten days from now. We are not ruling out any angle.  We will probe every angle," he said.


The Home Minister also said that India was living in the "most troubled neighbourhood" as Pakistan and Afghanistan are the "epicentres" of terrorism.

Giving details about investigations carried out since last night, Chidambaram said ammonium nitrate, an explosive substance, was used in the IEDs which had timer devices.  He ruled out the use of remote control to trigger the blasts in Zaveri Bazar, Opera House and Dadar areas in Mumbai.
 

In Dadar, he said, the explosive material was planted in a bus shelter, at Opera House the bomb was on the road that left a deep crater while in Zaveri Bazar it was kept in a motorcycle.

"No group has so far claimed responsibility for the blasts," Chidambaram said, while making it clear they were not aimed at any particular community.

Terming the attack as a "coordinated strike", he said, "Whoever perpetrated this attack has worked in a very, very clandestine manner."

He said among the 131 injured, who were taken to 13 hospitals, 26 were discharged after treatment, 82 are in a stable condition while 23 people are in a serious condition.  Of these, some are in critical state, he said.

To a question, the Home Minister said that the target is India's "unity, integrity and prosperity" and assured that "every foreigner in India is safe."

"If an incident like this happens, let me assure you it is not targeted against any foreigner or tourist visiting India. It has happened at some places on last occasions as some foreigners were present in hotels. Therefore, they lost their lives," he said.
The serial blasts in Mumbai are not indicative of the failure of intelligence agencies, Chidambaram said.

"Intelligence is collected every day, every hour. It (blasts) is not a failure of intelligence agencies...who ever has perpetrated the attacks has worked in a very clandestine manner," Chidambaram said.
 
The blasts should not be treated as an attack on India's commercial capital or markets, he said, adding that the places where the blasts took place were chosen for the high density of population.

"Lets not draw inferences that one community or one religious group are target," Chidambaram said, when asked whether the blasts taking place at Zaveri Bazar and Opera House meant that any specific community was targeted.  About 30 per cent of the diamond market in the area has shifted to the BKC complex in suburban Bandra, he said. 

To a query on who was behind the blasts, he said, "We have made it clear to Maharashtra Police not to rule out any angle... We will probe every hostile group. We are not ruling out anything."

Chief Minister Prithviraj Chavan said there was no "credible input" from intelligence agencies on the blasts.

Maharashtra Government would go into issues like modernisation of the police machinery and steps needed to avoid recurrence of such incidents, Home Minister R R Patil said.
Chidambaram said no arrests have been made so far in connection with the terror strike, but expressed confidence that "we will be able to zero-in on the group that carried out the attack."

Replying to questions, he said CCTV cameras were found installed in certain places in the areas hit by the blasts.  He said while the explosions at Opera House and Zaveri Bazzar were "high-intensity", the one in Dadar was of low-intensity.

Chidambaram said police forces face inherent difficulties in high-density areas of the mega metropolis and it is prevalent in every part of the world.  To a specific question, the Home Minister said every city in India is vulnerable (to terror attacks) and Delhi was no exception.

About an e-mail from an organisation with regard to Mumbai blasts, he said, "That was not a serious one."

"It is highly unfortunate that two terror incidents have happened after 26/11 attacks and both of them are in Maharashtra (Pune in February, 2010 and Mumbai)," he said, adding that the security agencies of the Central and state governments had been closely monitoring the situation including holding review meetings on May 19, June 9 and June 29 this year.

Appreciating the "splendid response" of the people in Mumbai, he said he was happy to note that children were going schools and people getting back to work after the attack last night.

Chidambaram said the blast sites have been cordoned off and public banned from visiting them. PTI