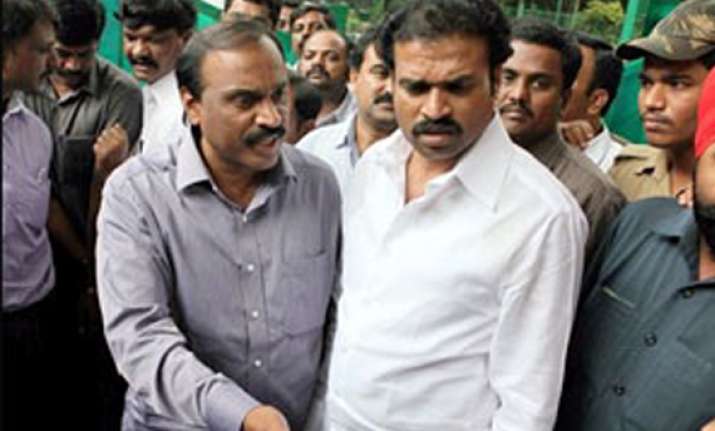 Bangalore, Nov 26: Striking at the camp of powerful Bellary Reddy brothers, BJP on Friday suspended two MPS loyal to them and issued showcause notices to four legislators for alleged indiscipline and anti-party activities.

BJP leader in the Lok Sabha Sushma Swaraj suspended MPs J Shantha (Bellary) and Sanna Fakirappa (Raichur) for indulging in anti-party activities by supporting B Sreeramalu, a close associate of the Reddy brothers, who is contesting the November 30 bypoll to Bellary Rural assembly constituency as an independent, the party said.

In a communication to BJP's state unit, released to the media here, Swaraj said Shanta, Sreeramulu's sister, and Fakirappa had been suspended on party leader L K Advani's advice.

The action came within hours of state unit BJP President K S Eshwarappa writing to Swaraj and BJP national President Nitin Gadkari seeking action against the two MPs for openly defying the party directive and campaigning for Sreeramulu.

Sreeramulu, a trusted lieutenant of mining barons G Janardhana Reddy and G Karunakara Reddy, quit assembly membership after he was denied a ministerial berth following his indictment along with the Reddy brothers in the Lokayukta report on illegal mining.

Eswarappa today announced in Bellary the show cause notices had been slapped on MLAs G Somashekara Reddy, one of the Reddy brothers, H T Suresh Babu, B Nagendra, (all MLAS) and Mruthyunjaya Jinga, MLC, seeking replies by Sunday on their "anti-party" activities in the run up to the Bellary bypoll.

Somashekara Reddy has dared the party to expel them and declared that he and other legislators on whom the show cause notices have been served would not reply.

As BJP decided to send a tough message to the Reddy brothers' camp, Karnataka Chief Minister D V Sadananda Gowda said the party regretted giving much powers to the Reddy brothers.

"We regret giving powers to the three ministers in Bellary.  People here are now facing anxious moments. There have been some mistakes on our part too. We will not allow such things to recur", Gowda said.

The Reddy brothers and Sreeramulu had "misused" powers given by the party and its government, Gowda told reporters here. "We regret giving them such powers. Such mistakes happened due to political and other reasons", Gowda said but did not elaborate.

Janardhana Reddy is lodged in a Hyderabad jail after being arrested by CBI in an illegal mining case.

The Reddy brothers wielded tremendous clout in the state and had even launched an oust-Yeddyurappa campaign when the Karnataka strongman was the Chief Minister, that had threatened the very survival of BJP's first ever government in the South.

Yeddyurappa withstood their onslaught but was forced to bow out of office by the party central leadership after he too was indicted by the Lokayukta.