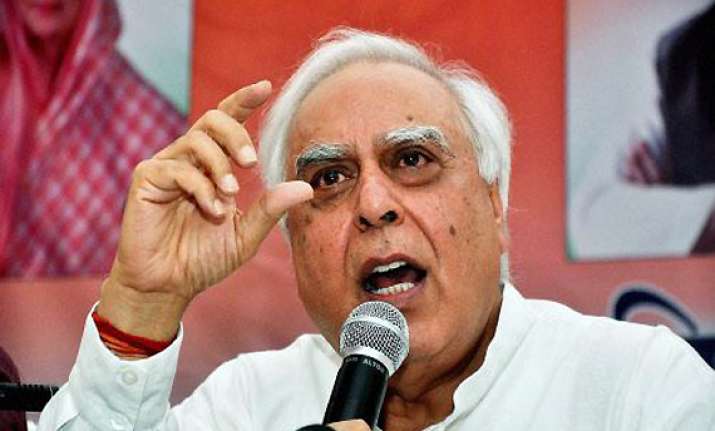 New Delhi, Jan 18: Buoyed by the Gujarat High Court verdict on the Lokayukta issue, Congress today launched an all out attack on BJP demanding an apology from it for "misleading" Parliament and said if Narendra Modi has any morality, he should quit.

Accusing the BJP of "hypocrisy" and "double standards" on fighting corruption, the party said the court order was the beginning of jolts for the "corrupt" Modi government ahead of the Assembly elections scheduled by the year end. 

Union Minister Kapil Sibal said that the court order upholding the appointment of Lokayukta by the Governor exposes the BJP on the issue of fighting corruption and Narendra Modi should now "quietly accept" the verdict. 

"This is yet another judicial confirmation of Modi's hypocrisy and double standards of BJP...The High Court has rightly rebuffed such stalling and obstructionist tactics," another party spokesperson Abhishek Singhvi said. 

Alleging that the BJP misled the government, Parliament and the nation on the issue, Mohan Prakash,  AICC in-charge for Gujarat, said the Opposition party should "apologise to the nation" and Modi government should step down if it has any morality left in it.

Welcoming the verdict, Congress general secretary Digvijay Singh said the order is a jolt to the Chief Minister. 

"This is the beginning of a jolt. Many more such jolts will be there for Narendra Modi," he said. 

Singh added, "now everything is becoming clear. Modi, who is the hero of BJP, himself wants to cover up corruption and hence did not allow the setting up of a Lokayukta."

Taking a swipe at Modi, Gujarat PCC chief Arjun Modwadia said he was "more corrupt" than former Karnataka Chief Minister B S Yeddyurappa and therefore used "do or die tactics" to prevent the setting up of a Lokayukta in the state.

He alleged that Gujarat has witnessed scams of over Rs one 1akh crore in the last five years itself.