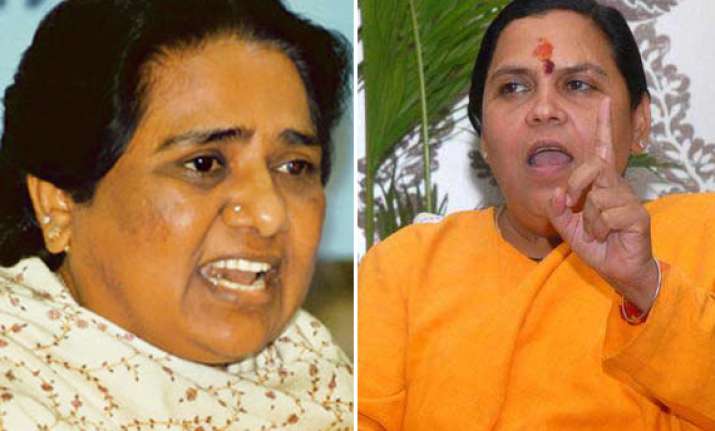 Lucknow, Dec 5: Attacking UP Chief Minister Mayawati, the BJP today alleged that her brother and his wife had siphoned off huge amounts of money and parked it through ghost companies in Noida and dared Congress chief Sonia Gandhi to get the charges investigated by central agencies. 

Accusing the Congress of kowtowing to BSP and failing to check the "rampant corruption" in Uttar Pradesh, BJP leader Uma Bharti said, "Despite this loot in the state, Rahul Gandhi is busy misleading the people with his 'marches'.... It is all a plan of Congress and BSP... The Congress needs the BSP." Bharti said the documents related to the dubious companies would also be sent to Sonia Gandhi and Rahul Gandhi. 

"I challenge that if they have morality and want to get the guilty punished, they should get these documents probed," she said.

Promising an inquiry into all such allegations if BJP comes to power in UP, Bharti said, "Whether it is ministers, the Chief Minister or her family members, whosoever is found guilty will be put behind bars, their property will be seized and with that money we will open schools and hospitals for dalits and other communities."

BJP national secretary Kirit Somaiya alleged, "There are 26 companies linked with dubious transactions, dealings and investment, of which seven have closed down."

He alleged that more than 100 such companies were involved in Noida scam.

Citing examples, he said a company "had dubious income/transaction of Rs 34 crore and it earned a profit of Rs 30 crore from commodity exchange, which indicates towards bogus entries in the accounts."

"While five ministers had been removed by Mayawati for alleged corruption, would she take action against her brother and his wife," he asked.

"I want to question Rahul Gandhi what action the Centre was taking when all the documents are available with its departments including income tax," he said.