Follow us on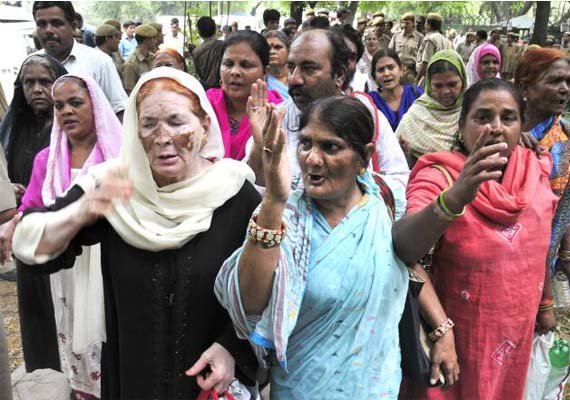 New Delhi: Ahead of the 30th anniversary of Bhopal gas tragedy, the representatives of five organizations of survivors will today go on an indefinite fast at the Jantar Mantar where they will place demands to enhance compensation.
The agitation would be organised under the banner of hundreds of survivors who would support the fast by sitting with the five women at the Jantar Mantar every day starting from today.
The major demands are additional compensation of at least Rs. 1 lakh for all identified survivors (over 5.69 lakh) and revision of the figures of death and extent of injury in the curative petition filed in the Supreme Court by the central government.
Satinath Sarangi of Bhopal Group of Information and Action (BGIA) said that at present, only 33,672 survivors out of the 5,69,081 have been given ex-gratia compensation of Rs. 1 lakh while the other survivors (who had got Rs. 25,000 as compensation earlier) have been left out.
 
He said figures of death (5,295) and extent of injury caused by Union Carbide presented in the curative petition are far lower than the findings of the Indian Council of Medical Research (ICMR) and other scientific agencies.
The death figure has risen to around 25,000 and almost all the 5.69 lakh odd victims are still suffering acutely. "Government should put across the correct position while demanding additional compensation through the curative petition, else it's of no use," he said.
 
The representatives are also offended by MP Chief Minister Shivraj Singh Chouhan's attitude.
 
"The CM had assured us in December 2011 that he would accompany us to the Prime Minister's office to put across our demands. He has never interacted with us since then," representative of one of the organisations," Balkrishna Namdeo said.
 
"We want to see whose side our new Prime Minister is on," said one of the representatives.
 
Besides BGIA, the organisations joining the agitation are Bhopal Gad Peedit Nirashrit Pensionbhogi Sanghash Morcha, Children Against Dow Carbide, Bhopal Gas Peedit Mahila Stationery Karmachari Sangh and the Bhopal Gas Peedit Mahila Purush Sangharsh Morcha.
 
The Bhopal gas tragedy occurred on the night of 2–3 December 1984 at the Union Carbide India Limited (UCIL) pesticide plant in Bhopal, Madhya Pradesh. Over 500,000 people were exposed to methyl isocyanate (MIC) gas and other chemicals. The toxic substance made its way in and around the shanty towns located near the plant.
 
It is considered the world's worst industrial disaster.