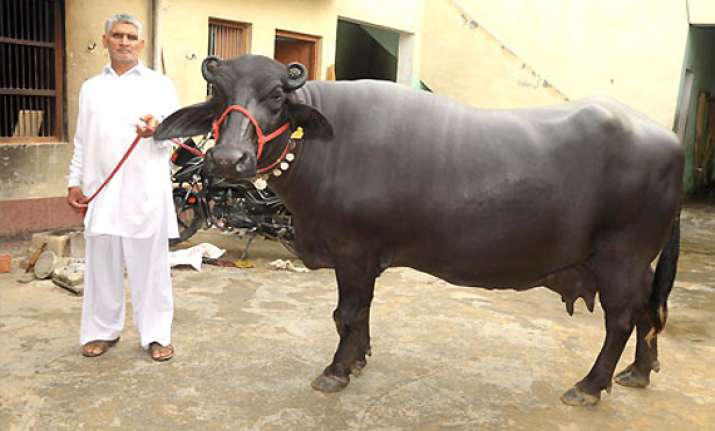 Rohtak, Aug 12: A buffalo sold for Rs. 25 lakh. Not a fiction. The deal was actually formalised in Haryana's Singwa Khas village where the buffalo Lakshmi's owner Kapoor Singh sold her to an Andhra Pradesh farmer Rajiv Sarpanch for Rs. 25 lakh. 
Lakshmi is a Murrah, a special breed of buffalo known for high milk yield. Her owner had bought her for Rs. two lakh two years ago and says she is special.
Special silver ornaments worth Rs. 25,000 have also been bought to deck up Lakshmi, which was the show-stopper buffalo at the Murrah catwalk in Jind two years ago.  
Lakshmi, which was adjudged the best buffalo at Muktsar cattle fair earlier this year, has so far bagged prizes worth Rs. 3 lakh in milk yield and other contests.
One of its calves was also sold for Rs. 3 lakh.  
According to Singh he did not want to sell the buffalo. So, he quoted an exorbitant sum of Rs. 25 lakh for the buffalo to be sold.  
Rajiv had offered Rs. 19 lakh a few months ago. However, this time, they sealed the deal as Rajiv seemed determined to acquire Lakshmi.  
But, Kapoor Singh will never forget Lakshmi. He still remembers how she entered his house with a calf and became famous by winning Rs. 21,000 in a ramp contest right away.