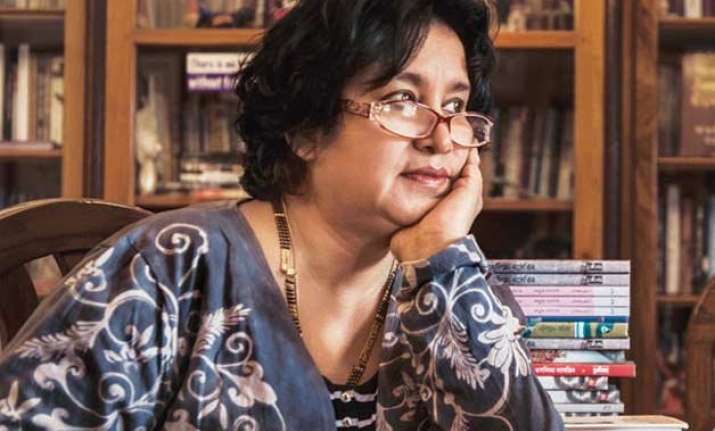 New Delhi: The Bangladeshi jihadist group Ansarullah has published, what it called, a 'global hitlist' of bloggers who have denigrated Islam, and vowed to take action against such writers.
Prominent in the list is Bengali author Taslima Nasreen, who is presently staying under police protection in India, after fleeing Bangladesh 21 years ago in the face of death threats and fatwas from fundamentalists.
The list includes names of Abdul Ghaffar Choudhury (London), Dawood Haider (Germany), Banya Ahmed (US), Asif Mohiuddin (Germany), Ananya Azad (Germany), Omer Farooq Luqs (Germany), Farzana Kabir Khan (Germany), Naastiker Dharmakatha (Germany), Foring Camelia (Germany), Qamrul Hassan (London), Sushanta Dasgupta (London), Arifur Rehman(london), Ajanta Debroy (London), Maneer Hassan (Birmingham), Shantanu Adeeb (London), Nijhoom Majumdar (London), Rumala Hashem (London), Raihan Abir (Canada) and Nirjhar Majumdar (Sweden).
At the bottom of the list, the extremist group Ansarullah has issued the following chilling threat: "Enemies of Islam and madrassa education, atheists, anti-Islamic apostates, Shahbagi bloggers, acting on behalf of India, are trying to set obstacles in the path of establishment of Islamic caliphate. We demand that the Bangladesh government cancel the citizenship of such enemies of Islam, otherwise we will liquidate them wherever we find them across the world. Our jihad will continue, Inshallah. Amen.- Ansarullah Bangla Team"
There have been reports in the media recently that Ansarullah activists are trying to cross over from Bangladesh to India to target Taslima Nasreen.
Ansarullah believes in the ideology of Anwar Al-Awlaki, a Yemen-based al-Qaeda activist, and has been involved in the gruseome murders of at least four Bangladeshi freethinkers and bloggers including US-based Bengali writer Avijit Roy and blogger Washiqur Rahman.
Today Taslima Nasreen tweeted: "Ansarullah Team that killed B'deshi atheist bloggers just published global hitlist of bloggers. My name is in the list". She has attached the photo of the hitlist.