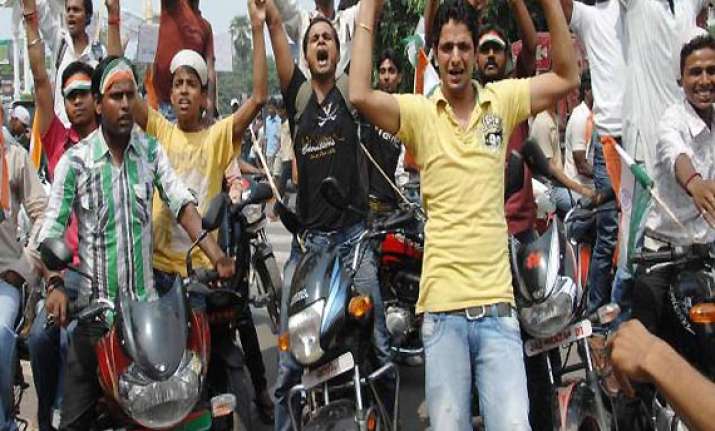 Jind: Some Lok Sabha candidates in Haryana, which has the country's lowest sex ratio, are facing a strange demand from bachelor voters—"get us brides in return for our votes".
"Bahu dilao, vote pao" (Get us a bride for our vote) is the demand of Avivahit Purush Sangthan (Unmarried Union). The outfit was set up by Bibipoor village panchayat head Sunil Jaglan in February, to look into the issue of gender imbalance, caused by female foeticide.  
Members of Avivahit Purush Sangthan are putting forward their demand to candidates of different political parties who are coming to their constituencies for campaigning. But so far they have failed to get any positive response from the candidates.
"This (female foeticide) is a very serious problem which, if not tackled now or if proper action is not taken, will have disastrous consequences in the near future," Jaglan told PTI.  
On the slogan, he said, "The slogan itself does not mean that all the youth are going to get their partners right now.  But it's an effort to attract the attention of the political parties towards the problem."
But Jaglan said, "Except AAP, prominent candidates from Jind have come to our village seeking votes, but none of them uttered a single word on our demand. Political parties are not interested in serious issues."
According to the 2011 Census, Haryana has 879 females per 1,000 males.
Radha Rani, wife of INLD candidate from Rohtak Shamsher Kharkara, said, "Female foeticide is not an election issue.  It's a social problem which can be addressed through social awareness."