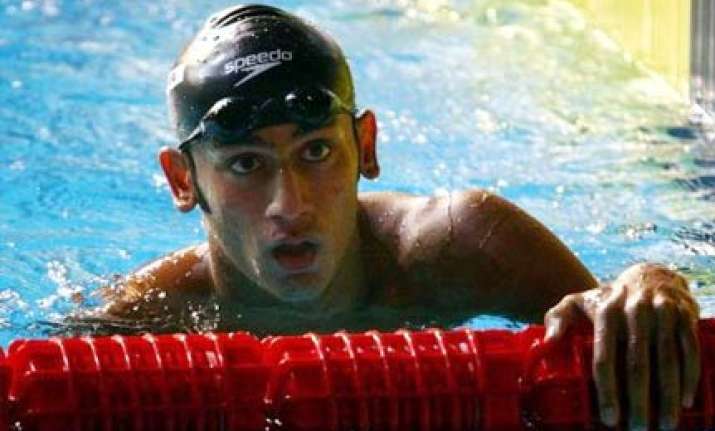 Guangzhou, Nov 16: India opened a new page in its Asian Games history with Ashish Kumar clinching the first-ever medal in gymnastics while Virdhawal Khade broke the swimming medal drought after 24 years as the contingent added three bronze to its kitty in an otherwise dismal fourth day of competitions here today.
Ashish Kumar made the country's first foray into the gymnastics medals podium with a bronze in the men's floor event but disappointing performances in other disciplines resulted in India slipping to the ninth position in the medals table.
The 19-year-old Khade also scripted history as he became the first Indian swimmer in 24 years to clinch an Asian Games medal by notching up a bronze in the men's 50 m butterfly event. Harika Dronavalli also clinched a bronze in the women's individual chess.
With the addition of three bronze medals to the kitty, India's medals tally rose to one gold, four silver and six bronze. India had finished tenth on the medal's tally in the Doha Asian Games in 2006 with ten gold, 17 silver and 26 bronze medals.
But the failure to win any gold medal meant that India could not maintain their seventh position on the medal rostrum, going down by two places.
The Chinese juggernaut continued to roll on as the hosts maintained their position atop the medals table with a whopping tally of 75-26-27 while South Korea (22-17-25) and Japan (15-34-28) were in the second and third position respectively.
Pugilist Suranjoy Singh also provided some spark to punch his way into pre-quarter finals while the shooters came a cropper for the second successive day.
Suranjoy gave a resounding start to the team's boxing campaign by entering the fly weight (52kg) pre-quarters with a thumping win over Thailand's Chatchai Butdee but the script turned out to be quite different at the other venues where the shooters, shuttlers, lifters, men's football team and the women's hockey team came up with dismal performances.
Indian shooters drew a blank for the second successive day after they failed to qualify for the final round of the women's 25m pistol individual event and finished a lowly seventh in the team competition.
The day clearly belonged to two youngsters -- Ashish Kumar and Khade -- for their feats in gymnastics and swimming.
Khade, who topped his heat by clocking 24.56sec, finished third in the 50m butterfly finals with a timing of 24.31sec, thus ensuring that India did not draw a blank from the pool.
Khazan Singh was the last Indian swimmer to win a medal at the Asian Games when he clinched the 100m freestyle silver in the 1986 Seoul edition.
In football, India suffered a 0-5 drubbing at the hands of title contenders Japan to crash out of the tournament after qualifying to the knock-out phase of the Asian Games for the first time in 28 years.
India, who made it to the round of 16 after defeating Singapore 4-1 in their last group match, were no match to their formidable opponents who have won all their earlier matches and have not conceded any goal so far in the tournament.
After bagging two silver and as many bronze medals, the shooters, who provided India with the golden touch in the CWG, put up a flop show and left everyone wondering what has gone wrong with them.
The women's 25m pistol -- individual and team -- was the only shooting event which featured Indians today but much to the dislike of the fans there was disappointment in store.
Rahi Sarnobat finished 10th in the individual qualifiers with a score of 577 after managing 286 in precision and 291 in rapid, while Annu Raj Singh came 18th at 574 (288ꤖ) and Anisa Sayyed 26th with a tally of 566 (282ꤔ).
The trio could not make much of an impact in the team event as well, finishing seventh with 1717 points after combining for 856 in precision and 290 in rapid.
In boxing, The 24-year-old Suranjoy, who has won an astonishing seven international gold medals since April 2009, thrashed Butdee 7-2 in his and India's opening bout at the Foshan Gymnasium here.
Fresh from his seventh international gold at last month's Commonwealth Games in Delhi, Suranjoy was as usual sharp in his movement and dodged his rival's attempted attacks craftily.
Suranjoy will now be up against Juseong Kim of Korea who got the better of Kazakhstan's Miras Zakhupov 5-3 in his opening bout.
In badminton, Aditi Mutatkar braved a calf injury en route to a straight-game triumph over Sri Lanka's Thilini Jayasinghe as Indian shuttlers began their individual campaigns at the Asian Games on a bitter-sweet note.
In women's doubles, Jwala Gutta and Ashwini Ponnappa, fresh from their Commonwealth Games women's doubles gold, sailed through against the Thai pair of Savitree Amitrapai and Punyada Munkitchokecharoen.
The Indians were leading 21-13 when their rivals conceded after one of them got hurt.
But the second doubles pair of Aparna Balan and Prajakta Sawant exited after losing tamely to Malaysia's N G Marylen Poaulen and Woon Khe Wei 21-17 21-7 in a 20-minute drubbing.
At the table tennis arena, The Commonwealth Games gold medallist pair of Sharath Kamal and Saha lived up to their billing as they outclassed Husain Albahrani and Mansour Alenezy of Kuwait 3-0 in their opening round encounter.
The Indian duo took just 12 minutes to get the better of Albahrani and Alenezy 11-7 11-4 11-4 and set up a clash against the Korean pair of Jungwoo Lee and Sang Eun Oh.
In volleyball, India spanked Vietnam 3-0 in their final group B preliminary match to advance to the quarterfinals.
India staved off the late challenge from Vietnam to notch up a 25-20, 25-16, 25-23 victory to rise to the second spot in Group B, which is headed by defending champions South Korea.
The judo campaign came to a dismal end after Olympian Tombi Devi and Navjot Chana lost their repechage bouts to miss out on medals.
Competing in the men's 60kg category, Chana beat Hong Kong's Kin Ting Yu 120-0 and Iran's Mohsen Ghaffar 110-0 in his preliminary bouts but lost 0-120 in the quarterfinals to eventual finalist Rishod Sobirov of Uzbekistan.
However, Chana could not capitalise on the opportunity he got in the repechage and was beaten 2-101 by China's Lamusi A.
Similar was the story of Tombi (48kg), who won her preliminary bout against Nancy Quillotes of Philippines 100-0 before losing to eventual finalist Yeon Jung Chung of Korea 0-110. Tombi lost to Alexandra Podryadova 0-1 in the repechage.
India made a disappointing start in the sepaktakraw event with both the men's and women's team losing their opening group matches.
While the men's team went down fighting 1-2 against Japan in Group B, the Indian eves cut a sorry figure in their pool match as they were routed 0-3 by Korea. PTI