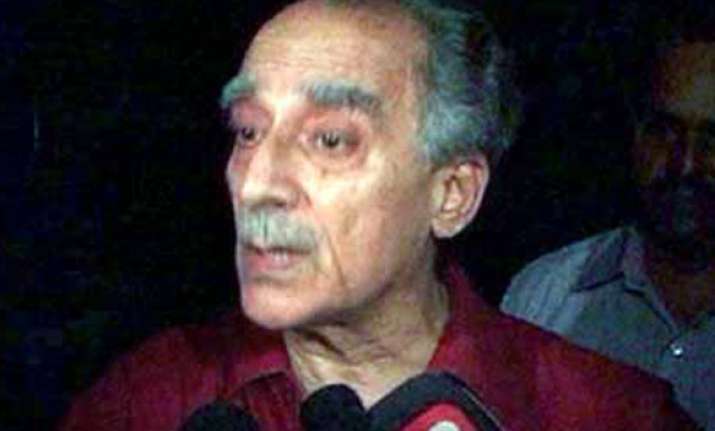 New Delhi, Feb 11:  Former Telecom Minister Arun Shourie today termed as "absolute fabrication" the charge that he had approved the policy of First-Come, First-Serve (FCFS) as against multi bidding for new licences in 2003.
Retired Justice Shivraj Patil, who went into procedures followed by the Telecom Ministry from 2001 to 2009, has said in his report that new telecom licenses were issued in 2003 on
FCFS basis at 2001 prices without any guidelines, overlooking telecom regulator TRAI's recommendations.
That is an absolute fabrication... He (Patil) is a hand- picked judge, he gives report convenient to the government. He has not been given the documents, he decided not to meet anybody dealing with the matter at that time.
 "He will confine himself to documents given to him by Sibal's little minions and he gives this kind of nonsense," Shourie told CNN-IBN (rpt) CNN-IBN.
Telecom Minister Kapil Sibal had also expressed surprise over a letter written by former TRAI Chairman Pradeep Baijal in his personal capacity to Shourie suggesting him to go ahead with FCFS policy for allocation of licences.
"The real problem started with that correspondence and the minister was persuaded to move forward without following TRAI's recommendation... This is what the one-man committee has found out," Sibal had said recently.
"TRAI communicates as an institution and Baijal comunicated in his personal capacity," Sibal had said.
Shourie denied the charge saying Baijal's letter was in response to the ministry's query in which he (Baijal) reiterated TRAI's recommendation and asserted that all this can be verified from the records.
The report of Patil committee has been forwarded to the CBI which is looking into the 2G spectrum scam. The government auditor CAG has estimated the up to Rs 1.76 lakh crore revenue loss to the exchequer due to sale of spectrum in January 2008 by A Raja.
Asked whether he was worried that he might face criminal charges, the former minister said there was no such question as he himself was informing the CBI about it. PTI