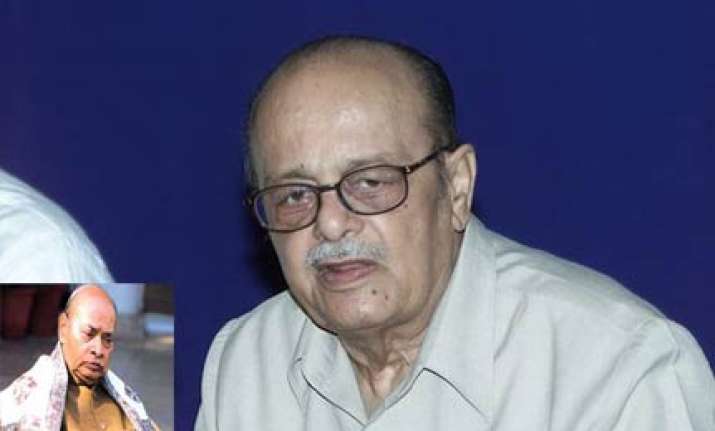 New Delhi: Breaking his silence, Arjun Singh on Wednesday appeared to point fingers at the late P V Narasimha Rao in the exit of former Union Carbide chief Warren Anderson in the wake of Bhopal gas disaster in 1984, thereby giving a clean chit to the then Prime Minister Rajiv Gandhi.
 "The Chief Secretary informed me that there have been persistent calls for granting bail to Mr Anderson from Home Ministry officials in Delhi," said Singh, who was then the Madhya Pradesh Chief Minister, pointing fingers at Rao, who was then the Union Home Minister.
Singh, who did not not share a good relationship with Rao during his days as HRD Minister in Rao's Cabinet at the Centre later, said he had ordered the arrest of Anderson and wanted it to be recorded so that he could be produced before courts when needed.
 Participating in a debate on the Bhopal gas tragedy, the world's worst disaster in December, 1984 that had claimed more than 15,000 lives,  Singh said he had informed Gandhi, who was in Harsukh town in Madhya Pradesh, immediately after the arrest of Anderson on December 6, 1984.
 "Rajivji did not not utter a single word in the next two days either in support of Mr Anderson or try to mitigate his problem.  Attaching motive to the then Prime Minister would be a figment of imagination of persons who can see nothing constructive of a person of that stature," he said giving a clean chit to Gandhi.
 Ever since a Bhopal court gave a light punishment to the accused in the gas disaster case, there have been opposition allegations Gandhi could have a hand in the exit of Anderson soon after his arrest in the case.
Anderson was "directly responsible" for the tragedy and the government should push for his extradition and seek "adequate and full" compensation for the tragedy.
He said Prime Minister Manmohan Singh should take up with US President Barack Obama during his forthcoming visit the issues of Anderson's extradition and compensation.
Giving for the first time his side of the story, Singh said it was "incongruous that Anderson took a state plane to leave Bhopal" but did not go into details, saying he did "not want to enlarge on these things as it would add grief and bitterness".
Narrating the sequence of events that started with the leakage on December 3,1984 night, 80-year old Singh said Rajiv Gandhi was in Harsud town of Hoshangabad district of the state when Anderson was arrested.
"There had been persistent calls for granting bail to Anderson from the Home Ministry in Delhi. I told him (MP Chief Secretary) that he can do whatever he likes, but the arrest be duly recorded so that we can summon him whenever we want", said Singh, who has been under attack for allegedly allowing Anderson to leave the country after he was arrested.
Not satisfied  with Singh's version, Leader of Opposition Arun Jaitley said that the senior Congress leader was attributing blame on people who were not alive, neither the then Union Home Minister nor the Chief Secretary.
Jaitley said if Rajiv Gandhi had no sympathy with Anderson, then why did he listen to the Home Ministry. "His statement is concealing more".
Singh said he had met Rajiv Gandhi and narrated the events leading to the arrest of Anderson. Gandhi "heard me out without any comment and said let us move to another (election) meeting. Rajivji did not have any kind of sympathy for anyone, much less Mr Anderson.
 "I am not shifting any blame on anybody. Whatever is the blame, I am ready to suffer as an ordinary citizen. The clamour for my speaking out, should now subside."
Justifying the state government's decision to take Anderson to an official rest house after his arrest, the then Chief Minister said he had to carry out this job "with a heavy heart" in order to prevent any physical or personal harm to the Union Carbide chief.
Maintaining that large number of people, particularly the next of kin of people who had died, had gathered outside the airport, Singh said he would have been "lynched from the nearest lamp-post" had the people come to know about Anderson's arrival.
Singh said Andersen, whom he tauntingly described as "Bada Saheb", had the audicity to come to Bhopal after the tragedy even though he was directly responsible for it.
"He could not be coming to share our grief", Singh said. After his arrest while he was being escorted to the rest house, Andersen kept asking why the Chief Minister was not saving him. "That is the kind of arrogance these people have".
Singh said he was not seeking a "bargain" from anybody for recounting the events with "great anguish".
'I do not want to lay blame on any side not in the hope of a bargain," he said.
He said allegations against him were started by a handful of people. "In our country, gossip has a stronger force than reason," Singh said while noting that he had set up a Commission of Inquiry which could start from questioning himself.
The Congress leader said the government of Manmohan Singh today was committed to get Anderson extradited and he had no opinion to give on how it should be done.
 "People responsible know how it is to be done," he said.
Arjun Singh said India had "unspoken promise" from the US on Anderson's extradition and the Prime Minister should take up this issue with Obama when the latter visits India in November.
"Adequate and full compensation can be asked from him (Obama)," Arjun Singh said.
He said news reports had quoted Obama as saying that "let somebody make reference to us (about Anderson), then we will see." PTI