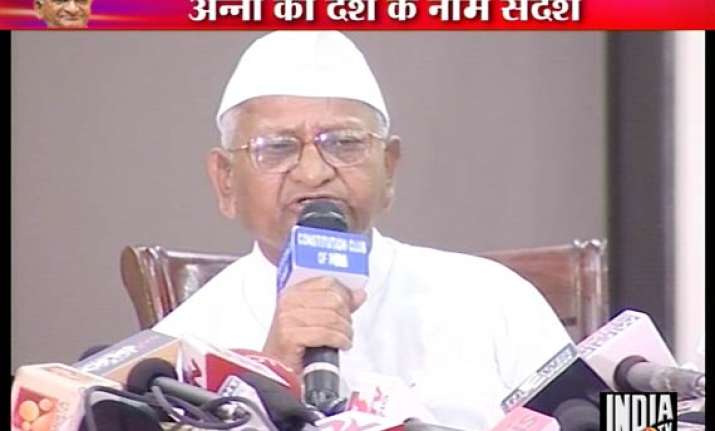 New Delhi, Aug 15: Gandhian activist Anna Hazare is all set for a full blown confrontation with the government on the Lokpal bill, giving a call to his supporters to fill up jails all over the country if he is arrested tomorrow after he was denied permission to hold indefinite fast here.  

In a widely-televised address from Constitution club, the aged Gandhian said, he would begin his indefinite fast even in jail. "So long as I have life in my body, I will fight for the Jan Lokpal Bill. Even if they release me, I will again go and court arrest there (J P Park)."

In a rambling 40-minute address, Hazare said, this was the beginning of a long-drawn battle against corruption. "It's a battle for change. We have to change the system. The independence that we got 64 years ago has not given justice to the crores of poor farmers and tribals."

At one point, Hazare had tears in his eyes as he said, he often found himself unable to provide justice to the poor people. "This government supports industrialists by taking away land from the poor farmers and selling them to the capitalists."

A sad but defiant Anna Hazare said, he took three hours to contemplate near the samadhi of Mahatma Gandhi at Raj Ghat today about the present state of the nation.

"80 per cent of the people are hardly able to earn Rs 20 a day, while the affluent spend thousands of rupees a day", said Hazare.

The Gandhian activist said, "I promise to give in writing that at least 65 per cent of present-day corruption will be eliminated if the government enacts a strong Lokpal bill".

Hazare said, he thought the Prime Minister was a sincere and honest man, but he too was now speaking in the language of his minister Kapil Sibal.

The Gandhian appealed to people to register their protest in a non-violent manner.

On Hazare's appeal, many of the homes in the metros and small towns observed "lights out" for one hour from 8 pm to 9 pm today. Hazare pointed out that on August 15, 1947 Gandhiji did not attend the Red Fort function. He was sitting in a dark room in Bengal.

PTI adds: Hours after Prime Minister Manmohan Singh slammed him for resorting to fast as a protest when Parliament was seized of the Lokpal bill, the Gandhian said he will go to J P park tomorrow, the venue of his fast even though Delhi police has imposed prohibitory orders.

"I come to understand that I will be refused permission. We will go there. If I am arrested, I will continue my hunger strike in the jail. If I am released, I will go back to the venue and this circle will continue," he said at a 30-minute press conference that came to an end to coincide with his "lights-off" call throughout the country from 8 pm.

He said once he is arrested, people should fill up the jails in every village across the country. "Going to jail for the country is no crime...It is a decoration," he said.

He accused the Prime Minister of "speaking" the language of his ministerial colleague Kapil Sibal saying that the Lokpal bill was before Parliament which will take the call. Before his press conference, the 73-year old activist made an unscheduled visit to Rajghat, where he sat in meditation. Soon after the news of his being at the Gandhi Samadhi, hundreds of supporters gathered around him.

Hazare's protest tomorrow is in pursuit of his campaign for a strong Lokpal that will have under its ambit Prime Minister, higher judiciary, conduct of MPs in Parliament and other provisions. The bill introduced in Parliament excludes these institutions.

In his speech at the Red Fort this morning, the Prime Minister decried Hazare going on fast and said Parliament alone will decide on Lokpal and those having grievances should approach Parliamentary Committees for airing their views. At his press conference, Hazare said corruption has crossed all limits and is all pervasive in various sectors, including education and jobs.

He said even after Jan Lokpal is passed, there is no guarantee that corruption will be eliminated 100 per cent but he was confident that it would end at least up to 60-65 per cent. "If it does not happen, I am ready to serve water at Kapil Sibal's house," he said.

Hazare said the fight against corruption has just begin and will not stop even if Lokpal bill passed. The struggle for the change will continue and it is a long battle, he said. "It is now a fight to the finish," he said, adding they were not for pulling down the government but if falls in the process, they don't care.

He also said his protest will be non-violent because non -violence was a powerful weapon.

Referring to the Prime Minister's remarks that the Lokpal bill was before Parliament, he said "We have to accept Parliament. We have trust in Parliament but the bill that has gone before it is not proper."

The activist said the provisions like appointment and removal of Lokpal were serious issues on which government made promises but suddenly it changed its stand and "betrayed us". Speaking about repeated assertions from the government's side that he was undermining democracy, he said, "Don't we know democracy. Is democracy only wining elections after spending money. Four MPs are in jail and there are charges against nearly 150 others."

Hazare said government was working only for big industrialists acquiring lands from farmers and was not working for the poor.