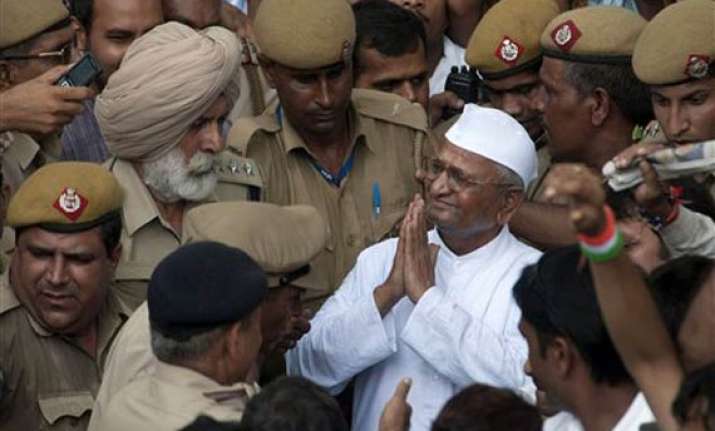 Pune, Aug 20 : Anna Hazare can fast for at least nine days without any major health problems, says Dr Sayyad Rafique Gafoor, who has been the 74-year-old social activist's doctor since 1983, reports Indian Express.

"His body is habituated to the fasts," says Sayyad, a senior doctor in Hazare's home taluka of Parner. "No doubt it is difficult to go without food at this age, but Anna has managed to do it through his willpower and an inborn capacity to withstand hunger."He adds that Anna's numerous hunger strikes have had no serious consequences on his health.

"After five to six days of continuous fasting, his body shows the symptoms of going without food — of ketoacidosis (high accumulation of ketone bodies in blood) and adverse effects on the kidneys. But keeping in mind his past record, I am confident that no serious consequence will occur on his health even if he continues fasting for nine days," says Sayyad, who will be leaving for New Delhi soon to look after Hazare.

"He is under regular treatment for high blood pressure. He also chronically suffers from Acid Peptic Disease (APD) or hyperacidity, for which it is necessary to have timely meals. Continuous travelling and fasts aggravate APD, but to tell him to abstain from his tours and fasts is asking for the impossible. I know he won't stop them. But he knows how to cope with it all. He carried a health kit for his hyperacidity and high blood pressure," says Sayyad.

A team of 36 doctors, assisted by ace heart specialist Dr Naresh Trehan, would be monitoring the health of Anna Hazare round the clock during his hunger strike. A medical camp has been set up in the Ramlila Maidan, where the anti-corruption crusader is fasting demanding a strong Lokpal

Soon after Hazare addressed his supporters after reaching the ground, doctors checked his basic health parameters including his blood pressure after which his associate Arvind Kejriwal announced that the 73-year-old Gandhian was doing fine.Dr Trehan, who will be checking on Hazare's health later in the evening, too said the Gandhian was doing fine so far.

"I will check on him in the evening. Right now, as per the information available to me, he is okay. A team of 36 doctors will monitor his vitals round the clock," Trehan said.Hazare had earlier announced that he had lost 3 kilograms since he started his fast on August 16.