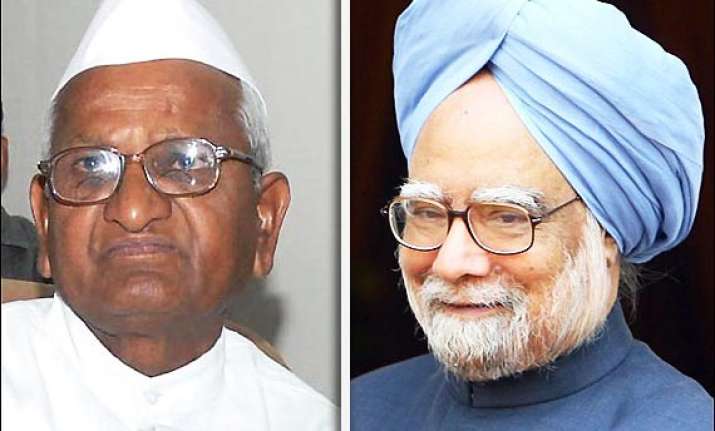 On Board PM's Special Plane, Oct 19: Noting that Anna Hazare's movement has "served its purpose", Prime Minister Manmohan Singh today said the government was working to put in place an effective Lokpal which would be an assurance to people that corruption "cannot flourish as a way of life".

He said corruption was hurting development, governance besides the poor people and his government was committed to "clean up the system".

"Well, I would not like to use this opportunity to criticise any individual," he told journalists when asked whether Hazare had been "unfair" by continuously attacking him and his government.

"I think, Anna Hazareji's movement has served its purpose. We are all working to ensure that we have in place before long an effective Lokpal," Singh added while talking to accompanying journalists on his way back home from Pretoria where he attended the India-Brazil-south Africa (IBSA) Summit. 

He said the government expected Parliament to vote for an effective Lokpal Bill "which will be an assurance to the people that corruption cannot flourish as a way of life."

Singh disagreed with a suggestion that corruption is an inevitable fallout of development as similar issues were finding resonance in public protests in other IBSA member countries—Brazil and South Africa.

"I can't take that view of complacency. Corruption hurts development processes, corruption hurts the poor, corruption affects the quality of governance. Therefore, I can't say corruption is something which is inevitable in the society," he asserted.

Apparently referring to the Hazare-led protests and associated events, Singh said, "recent debate over corruption has served the purpose. It has awakened our country to the harmful consequences of corruption which is eating into political, economic and social fabric of our country."

He emphasised that his government is "committed to all that is necessary to clean up the system." The Prime Minister also condemned the physical attack on Team Anna member Arvind Kejriwal in Lucknow yesterday, saying there are civilised ways to express "anger and frustration" by anybody.

"There is no place for violence in our democracy.  Therefore, any act of violence is to be condemned. On that point, I am absolutely clear that nothing is going to be gained by pursuit of violence, howsoever, angry one may feel," he said when referred to the incident.

To a question on RTI, he maintained that he had never said that there should be any dilution of the Act.

"There are certain ways in which things can be done. All I said is that we should reflect how to achieve in totality the purposes for which RTI was set up. I never said we are going to change RTI (Act)," he clarified.