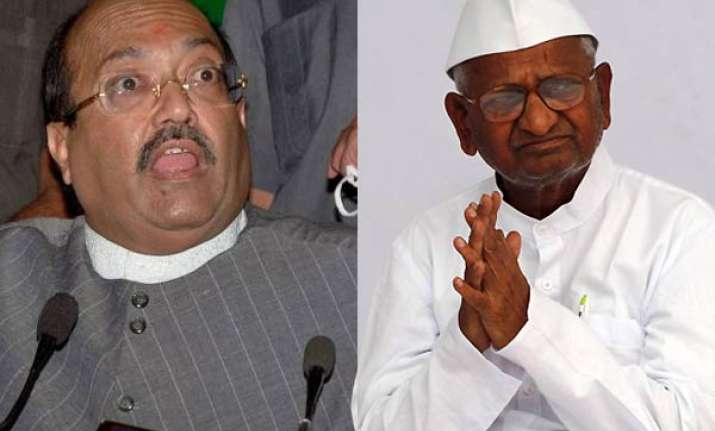 New Delhi, Apr 13 : Expelled Samajwadi Party leader Amar Singh has lashed out at Gandhian Anna Hazare for running down politicians in his speeches.

Amar Singh said on Tuesday that Hazare cannot bring about change in the system by merely slamming politicians.

"...Is Hazare bigger than Mahatma Gandhi who had said that one should hate the sin and not the sinner. What is wrong in Om Prakash Chautala and Uma Bharti reaching out to Hazare...is he bigger than Gandhi, JP, Lord Buddha that he criticised the politicians who had come to support his cause," Singh wrote in his latest blog posting.

He said people like Lord Buddha, Jai Prakash Narain and Vinoba Bhave helped criminals reform themselves.

He said though Hazare may consider Agriculture Minister Sharad Pawar a "bad" person, he should at least ask the people of Baramati (Pawar's pocket borough) how they feel about him.

"Politicians at least have their Baramatis, but what about judges, officials and journalists who only take and have nothing to pay back to the society," Singh said.

Singh said though he and SP General Secretary and National Spokesperson Mohan Singh have exchanged barbs, he supported what the latter had said about Hazare's statement that politicians should be fed to vultures.

The Rajya Sabha member felt that BJP MP and eminent lawyer Ram Jethmalani should have been taken on the Joint Drafting Committee instead of another known lawyer Prashant Bhushan.
In Bhopal,  Madhya Pradesh BJP president Prabhat Jha today hit out at Gandhian Anna Hazare for allegedly dubbing all politicians as corrupt.

"Anna Hazare is not running a university or a college to give character certificates to politicians," Prabhat told PTI.

Jha said that Anna had no right to defame politicians who work hard year after year to achieve a place for themselves.

He also ridiculed the idea of people lighting candles in various parts of the country and said that such gestures would never be able to eradicate corruption from the country.

The anti-corruption crusader had resportedly said that politicians were interested only in money and power and are not interested in the welfare of the people. PTI