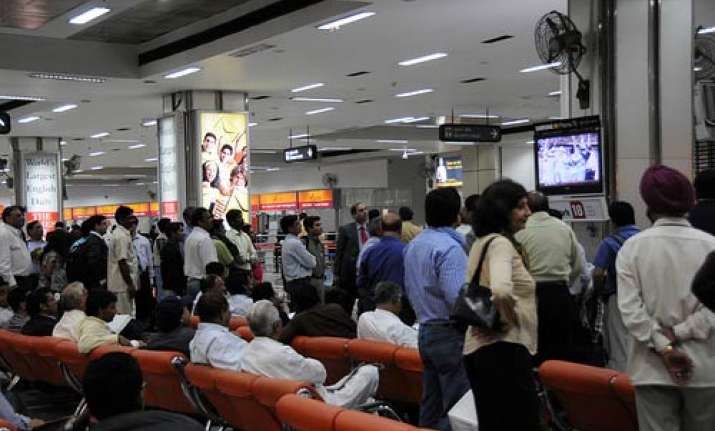 New Delhi, April 2 :  Hordes of cricket fans across the country are flying to  Mumbai to watch the World Cup final at the Wankhede stadium on Saturday, shooting up air fares in the bargain, reports Times of India.Airfares to Mumbai have once again shot up by up to 80% -- like they did last Diwali -- for flights on Friday and till Saturday noon. 

Flights out of Mumbai on Sunday morning have witnessed fares going northward (though not as much as incoming flights) as fans will be flying back to their home cities in droves after the final. The sudden surge in demand has led to sharp hikes in fares. 

For instance, while Delhi-Mumbai fares are usually in the range of Rs 5,000-7,000, the one-way fare on Friday evening flights was up to Rs 15,000 and climbing, said Travel Agent Federation of India chief Anil Kalsi. Saturday flights were costing between Rs 6,000-10,000. According to Riya Travels director Benson Samuel, a similar surge was witnessed from many other metros for this weekend. 

"Bangalore-Mumbai average fare is Rs 4,500-6,000. But it has shot up to Rs 10,500-17,000 for Friday flights and is in the range of Rs 9,000-14,000 for Saturday.
Hyderabad-Mumbai is usually Rs 2,500-6,000 but is at Rs 6,000-12,000 for Friday. 

Chennai-Mumbai average fare of Rs 6,000-8,500 is up to Rs 10,000-18,000 on Friday and Rs 7,000-9,000 on Saturday. Kolkata-Mumbai fare is up from usual Rs 5,000-6,000 to Rs 7,000-10,000," he said.

And, Mumbai-Delhi fare of Rs 4,000-8,000 is in the range of Rs 5,500-18,000 now for Sunday morning. "Usual one-way fares from Mumbai to Kolkata, Chennai and Hyderabad are Rs 5,000-9,000; Rs 6,000-8,000 and Rs 3,000-6,000, respectively. On Sunday, the range for these city pairs has shot up to Rs 6,000-15,000; Rs 6,500-13,000 and Rs 3,000-12,000," Samuel said.

"We have been receiving calls from people that they have somehow managed to get tickets for the final and now won't mind grabbing an air ticket at any price to fly to Mumbai. After all, the 1983 final match happened 27 years ago. It's all about being a part of history at Wankhede on Saturday," said a travel agent.