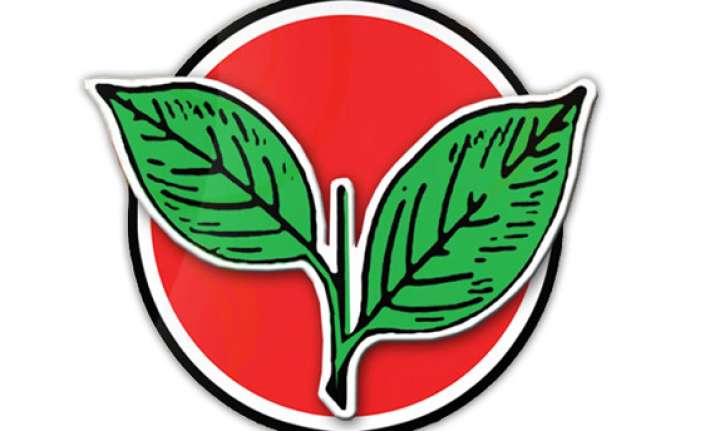 Chennai: In a one-horse race, ruling AIADMK led by Jayalalithaa today inflicted a crushing defeat on its arch-rival DMK, Congress and BJP-led six-party alliance, winning four seats and establishing unassailable leads in 33 out of the 39 Lok Sabha seats in Tamil Nadu.  
In a consolation to NDA, BJP was leading in Kanyakumari and its ally PMK in Dharmapuri while the DMK faced unprecedented defeat by drawing a blank.  
Stretching its winning streak since the assembly polls in 2011, AIADMK won the prestigious Nilgiris (SC) seat when its candidate C Gopalakrishnan humbled 2G scam accused A Raja of DMK by a marging of over 1.09 lakh votes.  
The party also won in Nagapattinam (SC), Vellore and Tirunelveli constituencies.
Even as Jayalalithaa almost realised her wish of winning all the seats, the massive mandate given to BJP by the voters across the country upset her plans of playing a vital role at the Centre in a post-poll scenario.
An elated Jayalalithaa said AIADMK has emerged as the third largest party in Lok Sabha and would "function as a responsible political party."
She was candid in admitting that the current situation did not give scope for her party for its participation in government formation remarking "there is no such situation now".
Talking to reporters after her party candidates established comfortable leads, Jayalalithaa described the performance as "historic, unparallelled and unprecedented."
Among those facing defeat were DMK leaders Dayanidhi Maran, T R Baalu and Congress nominees Mani Shankar Aiyar and Karti Chidambaram, son of Finance Minister P Chidambaram, who was in the fourth place in Sivaganga constituency.