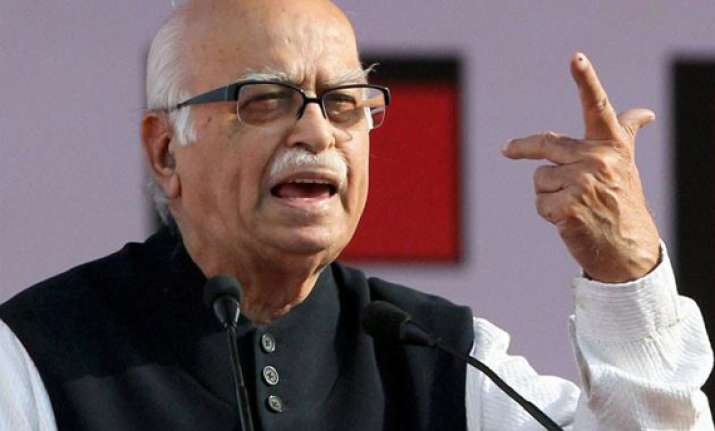 Chandigarh, Nov 17: Any decision on formation of new states should be taken after due diligence and nothing should be done in haste, BJP leader L K Advani today said while remaining non-committal on Mayawati's proposal to divide UP into four parts.

"On her (Mayawati) proposal I will neither say yes nor no. The issue should be thoughtfully considered and discussed," Advani told reporters here before leaving for Uttarakhand.

"What her idea is behind the proposal, I will not speculate. New state formation cannot be done in haste," he said.

UP Chief Minister Mayawati has proposed division of the state into four states - Poorvanchal, Bundelkhand, Avadh Pradesh and Paschim Pradesh.

Advani noted that reorganisation of states was first done in 1954 on linguistic basis. Subsequently, Jharkhand, Uttarakhand and Chhattisgarh were carved out of Bihar, Uttar Pradesh and Madhya Pradesh.

"I felt it (demand for new states) was justified as the three states formed on linguistic basis had large areas," he said, adding that in the 1998 BJP manifesto they had made a commitment.

"We formed the three states when I was the Home Minister. We made the new states without any problem," he said, adding further division of UP should be done only after considering the issue  threadbare.
Advani, whose yatra had entered the 37th day, said apart from corruption, the issue of black money particularly huge amount stashed away in foreign banks including in Swiss banks, has deeply "disturbed and distressed" people of the country.  "I have myself noticed this anger in the course of my yatra," he said.

The BJP leader said, "It is indeed deplorable that while not only powerful countries like USA, Germany, France but even smaller countries like Philippines, Peru, South Korea and Nigeria have taken strong and effective steps in getting the black money deposited in foreign banks, the response of the UPA Government has been that of gross indifference."

 "Why is the UPA Government reluctant to disclose identity of those persons in respect of whom Government has initiated proceedings for recovery of tax concerning their foreign bank accounts?" he asked.

Noting that recently France and some other countries gave names of Indians who have accounts in Swiss and other foreign banks to the government, he said, "To the best available information these names were not given with any obligation to maintain secrecy. The country is certainly entitled to know their identity.

"The entire country is agitated and the government's reluctance only confirms that exposure would cause further embarrassment to it," he said, adding the issue would be raised in Parliament.

Hoping that the issue of black money abroad will get prominence during Parliament's Winter Session, he said, "I should expect candour from the government."
Advani said reports about names of three MPS figuring in the lists of Indians being investigated in connection with foreign bank accounts bring the issue of black money "close to the political system".

He said from time to time various functionaries in the government, including the Prime Minister, Finance Minister and Home Minister, keep saying that our talks are on with other countries regarding information on black money abroad. "So far Parliament is not aware what is being done."

Advani said the Government must disclose as to in respect of how many Indians proceedings under the Prevention of Money Laundering Act is going on and concerning how many Indians, Swiss Bank and other foreign bank authorities have been approached for disclosure of their accounts and with what results.

"The record of the UPA government has been very dismal.In fact its bonafide itself is suspect from the very beginning.  Recently the Swiss Ambassador to India publicly commented that its government is willing to render all co-operation if government shows the political will," he said. 

Advani said, "When the whole world is proceeding towards openness and disclosure of information, what prevents the Government from disclosing names of those who have parked this money in foreign banks? The Government took six years to ratify the UN Convention against corruption and invariably the taxation agreements with various countries are being made prospective (effect) which will frustrate the very purpose of this exercise."

On the cash-for-vote scam, Advani said, "I read in a newspaper that the Delhi High Court said there is no evidence against them. I have not read the judgement. This scandal should be taken to its logical end and all the facts related to the unseemly ugly incident, which has tarnished India's image, should be brought out in the open. The issue should not be left at the bail stage only."

To a question on Rahul Gandhi's visits to houses of Dalits and to gurdwaras, Advani said, "I have never commented on what my adversaries do."

On the ruling SAD-BJP alliance and opposition Congress launching personal attacks against each other, Advani said, "I do not comment on any one. Unparliamentary language should not be used."

Asked about construction activities being undertaken by China along the border with India, he said recently the Defence Minister had expressed concern after the BJP delegation, which visited the area, put forth its views. 

"The Defence Minister said India will take all effective steps. What is actually done by the government we will see," he said.

To a question on removal of some BJP ministers from the Badal ministry following alleged corruption, Advani said the removal was not due to corruption charges. "Change is an ongoing process. The organisation will decide on nomination of party men for assembly elections".