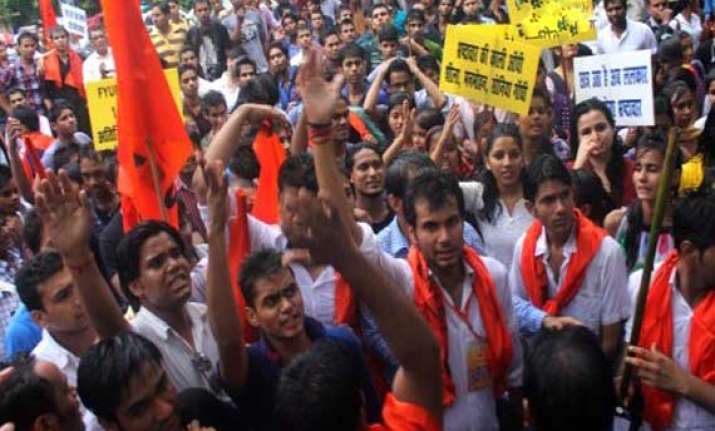 New Delhi: Hundreds of Akhil Bharatiya Vidyarthi Parishad (ABVP) activists today staged protest outside the office of Union Public Service Commission (UPSC) here, demanding the scrapping of Civil Services Aptitude Tests (C-SAT).
Protesters gathered outside UPSC office at 2 PM and raised slogans.
"UPSC has degraded the value of Hindi medium students and aspirants by introducing C-SAT. We would not sit silent till UPSC rolls back this test," Rohit Chahal, national secretary, ABVP, said.
Chahal also said ABVP had today called a nation-wide protest against C-SAT and held demonstrations at 200 universities in different parts of the country.
Protesters also demanded a four-year relaxation in age for appearing in the civil service examinations.
Police tried to removed the protesters but when they refused to budge, police had use mild force to disperse them and resort to water canons against them.
Later, around 400 protesters, including 50 women, were detained at the Tilak Marg police station, police said.