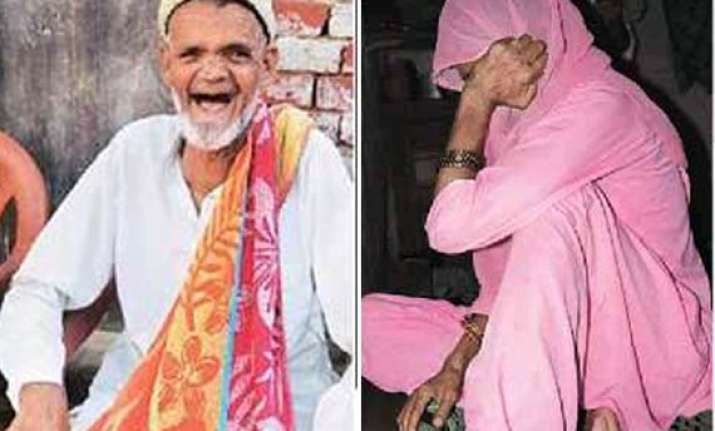 Meerut, Aug 11:  It was love at first sight for  90- year- old Mohammad Basheer, father of seven sons and whose first wife had died four years ago.
 
Basheer fell in love with 80-year-old Rafiquan and married her on Monday.
Basheer  had hoped that his seven sons  would take care of him. But that didn't happen.

All his seven sons wanted a share in Basheer's property comprising a small house and a grocery shop in old Meerut and a bank balance of  Rs 50,000. But none was ready to take him to a doctor and buy medicines for him when he fell ill.
 
" It was during this great crisis in my life that I saw Rafiquan, who was in my town to attend a marriage ceremony. We saw each other there and decided that we needed each other for the rest of our lives," Basheer said. Rafiquan is also a widow and issueless.
 
" Initially, she was apprehensive and feared we would be ostracised. But I asked her if we were already not living such isolated lives. I asked her if our lives were of any worth to those we call our very own. She realised that I was correct and accepted my proposal. Later, I spoke to her brother who said there was no objection from his side," Basheer said.
 
For her part, all Rafiquan could say was: " I am happy after 40 years. My first husband had left me then for reasons not known to me." But the course of true love, as Shakespeare remarked, never did run smooth.
 
The couple's marriage infuriated Basheer's eldest son Jan Mohammad ( 65) who has decided to severe all links with his father and contact the Qazi who had solemnised the marriage to register his protest.
 
" I knew right from the beginning that my father is a man of loose morals. But I didn't know that he was capable of doing such kind of things. I believe he will be in hell soon," he said.
 
But Bashir had a repartee for his son. " I was in hell ever since Jan Mohammad and my other sons stopped taking care of me," he said. But now I am back to life," Basheer added.