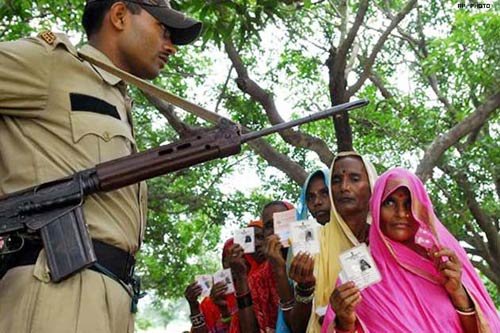 Aurangabad (Bihar), Nov 21: Eight people, including five children, were killed and 11 others injured when a bomb planted by Maoists went off this morning in the Naxal-hit Aurangabad district in Bihar, a day after the final phase of Assembly polls in the state.The bomb planted by the rebels was found yesterday by a police team, which left it in a field in the absence of a bomb disposal squad.
While seven persons, including five children, died on- the-spot, one succumbed to injuries in a hospital here, the police said.
Superintendent of Police Vivek Raj Singh said the bomb was planted by the Maoists at Pachokhar village during the sixth and final phase of assembly elections yesterday. The Maoists had given a call for boycott of the polls.Security personnel found it and left it in the field for follow up action to defuse it.
However, when the villagers went to the field this morning, the bomb suddenly exploded, Singh told PTI.Twelve others, who sustained splinter injuries, were admitted to various hospitals in Deo and Aurangabad towns. One of them died later, police said.
However, the deceased were yet to be identified as angry villagers did not allow the police to approach the field.The district magistrate and the SP could reach Bedhni, three km from the explosion site, and efforts were on to pacify the local people, police said.
Meanwhile, Chief Minister Nitish Kumar has directed Development Commissioner K C Saha and Director General Home Guard U S Dutta to jointly probe the incident.PTI