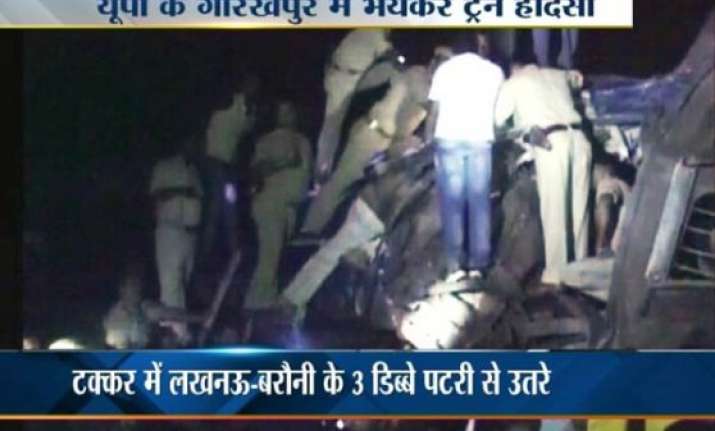 Gorakhpur: At least 12 persons were killed and 45 others injured when two speeding passenger trains collided near here late last night, a railway official said on Wednesday.
At least seven persons have died and among the 45 injured, 12 are grievously injured, railway spokesperson Anil Saxena said.
Krishak Express, travelling from Varanasi to Gorakhpur, hit Barauni Express, going from Lucknow to Barauni, from behind at a place, about 7 km from here at around 11 pm, Chief Public Relations Officer Alok Singh said.
Singh said three coaches of Barauni Express were thrown off the track following the collision.
Railway officials have rushed to the spot and rescue work was in full swing. The injured have been admitted to a nearby hospital.
The railway has also set up helpline for inquiries for various cities -- Gorakhpur (05513303365, 09794846980), Lucknow (05222233042), Chhapra (09006693233) and Benares (09919041978), the spokesperson said.
"The railway has suspended the drivers of Kushak Express for overshooting the signal," Saxena said.
"An inquiry has been ordered by the railway under Commissioner Rail Safety P K Bajpai to ascertain the cause of the incident," Saxena added.
Movement of trains on Gorakhpur-Varanasi track has been disrupted following the incident and 7 trains have been cancelled.