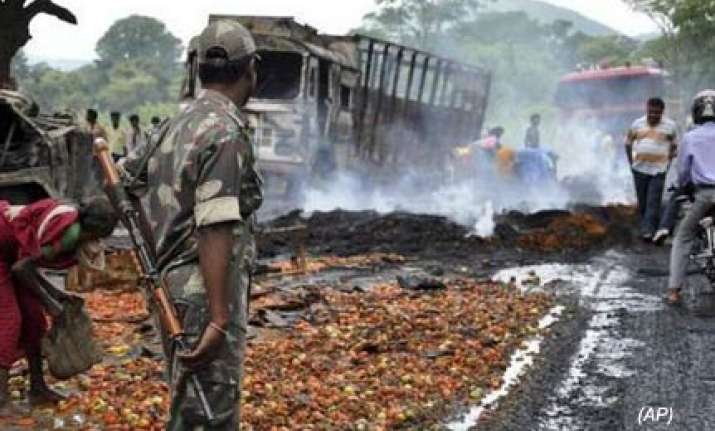 Raipur: Around 15 Naxalites were possibly killed when CRPF personnel retaliated during the Maoist ambush in a remote area of Chhattisgarh's Narayanpur district that left 26 jawans of the force dead, a top state police official said on Wednesday.
Around 15 Maoists may have been killed in the encounter that followed the ambush but the bodies of the Naxalites have not been found, Chhattisgarh DGP Viswa Ranjan told PTI.  
Naxalites are known to take away the bodies of their cadres killed in encounters with security forces.  
A large number of heavily-armed Maoists, perched on a hilltop, had opened fire with automatic weapons on a 63-member security contingent which was returning on foot from road opening duty yesterday killing 26 CRPF personnel. The dead included a CRPF Assistant Commandant Jatin Gulati.
The attack, which also left eight personnel including four special police officers of Chhattisgarh Police injured, took place at Daurai Road area, about 300 km from here.
Combing operations have been launched in the district today even as the bodies of the victims were brought here for post-mortem. Six teams of doctors have been formed to conduct the post-mortem, a state official said.   
The attack came nearly three months after the worst massacre by the Maoists which left 75 personnel of the force and one Chhattisgarh policeman dead in Dantewada district on April six this year.
The CRPF troops were from the 39th battalion of the force and were a part of its 'E' and 'F' companies, CRPF Director General Vikram Srivastava, who arrived here, said.
On May 8, eight men of the paramilitary force were killed when Naxals had blown up a vehicle in Narayanpur district.
Strongly condemning the Naxal attack, Chhattisgarh Chief Minister Raman Singh has said their sacrifices will not go in vain.
"The security personnel have laid down their lives to free the people from Naxal terror. Their sacrifice will not go in vain," the Chief Minister said.
"The Naxals have carried out a cowardly act. People and groups having faith in human rights should condemn this act of murder in once voice," he said, vowing to end the Maoist menace in the state.  "The extremists lack moral courage to engage in a direct fight with our brave security forces," he said, while conveying his condolences to members of the bereaved families. PTI