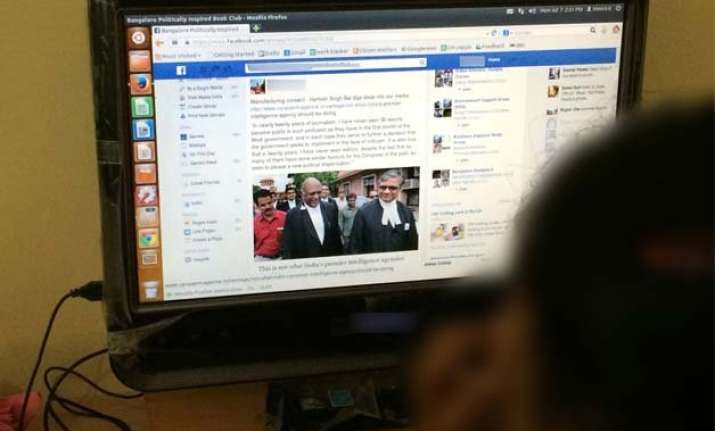 Supreme Court on Tuesday struck down the contentious section 66 A of the Information and Technology Act calling it unconstitutional and untenable. The section gave police the powers to arrest persons posting "offensive" comments from mobiles and computers and made it a crime punishable by jail up to three years.
The apex court also said that Section 66A interferes with the fundamental right to freedom of speech and expression.  The act has been in the eye of storm over the last few years because of its alleged misuse.  
The apex court order came on a bunch of petitions challenging the constitutional validity of section 66A of the IT Act on the grounds of being vague and ambiguous resulting in its misused by the law enforcing authorities.
The first PIL on the issue was filed in 2012 by a law student Shreya Singhal, who sought amendment in Section 66A of the Act following the arrest of two girls -- Shaheen Dhada and Rinu Shrinivasan -- for posting comments critical of the Mumbai shutdown following the death of Shiv Sena supremo Bal Thackeray.
Also Read: Now no arrests for objectionable posts on FB as SC scraps Section 66A
Here are 10 such instances where Section 66A has been misused to gag free speech on social media:
1) Cartoonist Aseem Trivedi was arrested in Mumbai on 9 September 2012 on charges of sedition for satirizing the political system in India. His cartoons depicted the parliament building as a lavatory buzzing with flies.
2) In November 2012, two Palghar girls Shaheen Dhada and  Renu Srinivasan were  arrested for criticising the shutdown of Mumbai after the death of controversial politician Bal Thackeray.  Their arrest sparked a nationwide outrage and resulted in suspension of two police officers.
One of them commented that the shutdown was out of fear, not respect. The second girl, her friend, was arrested for liking the post.
3) In November 2012, a 19 year old boy from Palghar was detained on suspicion of posting an 'objectionable' Facebook comment against MNS chief Raj Thackeray. He was let off after it was found that the comment was posted through a fake account.
4) In 2014, a young shipping professional Devu Chodankar was booked for a Facebook post on Prime Minister-elect Narendra Modi in which he was depicted as saying that he would start a holocaust in India.
Police described Chodankar's comment as part of a "larger game plan to promote communal and social disharmony in the state"
5) A tourism officer in Varanasi was arrested for uploading "objectionable" pictures of Samajwadi Party chief Mulayam Singh Yadav, Uttar Pradesh Chief Minister Akhilesh Yadav and senior SP leader Azam Khan on Facebook.
6) In August 2013, poet and writer Kanwal Bharti was arrested by police for posting a message on Facebook that criticised the Uttar Pradesh government for suspending IAS officer Durga Shakti Nagpal, who had cracked down on the sand mafia
7) In April 2012, the West Bengal government arrested Ram Nayan Choudhury , a second year student of a college for sharing cartoon lampooning Chief Minister Mamata Banerjee on his facebook post.
8) ,In April 2012 , a Jadavpur University professor Ambikesh Mahapatra was arrested  for circulating a picture spoofing WB chief minister Mamata Banerjee and her party colleague Mukul Roy.
9) On Oct 31, 2012, a  Puducherry businessman Ravi Srinivasan was arrested for allegedly posting 'offensive' messages on Twitter about Congress leader P Chidambaram's son Karti Chidambaram.
10) Recently, a 19 year old boy from Bareily was arrested for posting an objectionable Facebook comment against Samajwadi Party leader Azam Khan. The youth was later released on bail and the SC sought explanation from UP Police on the circumstances leading to the arrest.