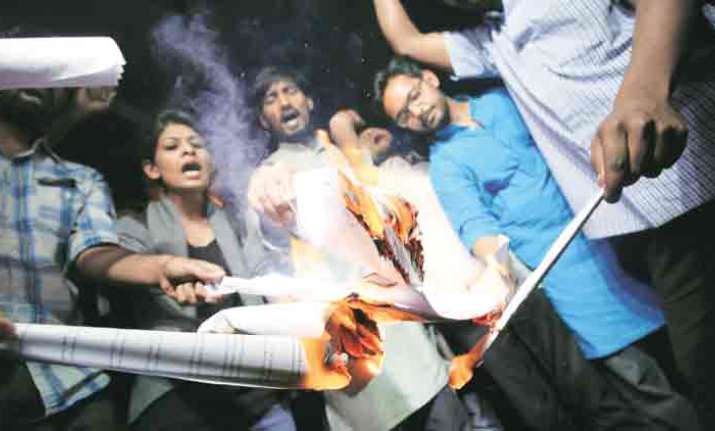 New Delhi: JNU students who were asked by the university to "explain their position" in connection with the burning of the copies of ancient legal text Manusmriti, have in turn questioned the administration about what is wrong in it. 
Weeks after the controversial event against Afzal Guru's hanging was held on campus, five ABVP rebels joined by left-backed All India Students Association (AISA) and Congress-affiliated National Students Union of India (NSUI) burnt sections of Manusmriti text at Sabarmati Dhaba on March 8, which was also the venue of the earlier event. 
The JNU administration had last week issued notices to five students asking them to explain their "position" in connection with the event despite the varsity administration denying permission for it. 
"What is wrong in burning copies of Manusmriti? Protesting against anything which we find derogatory is our right. Also this is not the first time that copies of that book have been burnt by us," one of the students said in his response to the administration. 
Similar responses have been shared by two other students raising the point that the notices issued to them do not mention what is the "offence" for which they have been asked to offer an explanation. 
Former ABVP office-bearer Pradeep Narwal, who had resigned from the party citing differences over the current row at university, was one of the main organisers of the event. 
He is, however, yet to respond to the notice served to him. 
"I got the notice today itself as I wasn't in the university. I am yet to respond to it but what is the problem in burning the copies of something we do not agree with? We have not burnt the entire book but only the portions that we found objectionable," he said. 
While three of the organisers were former ABVP office-bearers, two of them are still with the party but differ with their stand on Manusmriti. 
The university administration had then maintained that they had denied permission for the event and the security was briefed about the same.