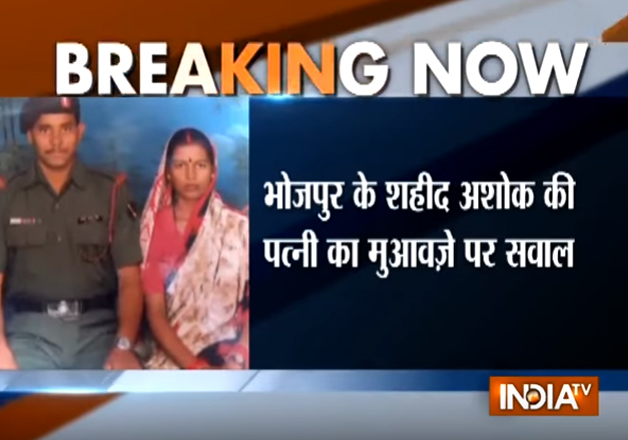 Sangeeta Devi, widow of havildar Ashok Kumar Singh, today rejected the Nitish Kumar-led Bihar government's Rs 5 lakh ex-gratia, saying her husband sacrificed his life while serving the nation.
Speaking to India TV, Devi, who hails from Bhojpur district, questioned the Nitish Kumar government over the state government's offer of Rs 5 lakh ex-gratia when other state governments have announced up to Rs 20 lakh as compensation.
"We don't need his (compensation) money, we are not begging. When others have announced Rs 20 lakh ex-gratia, why he is giving only Rs 5 lakh. We will not accept this… My husband died in the line of his duty… he didn't die of alcohol," she said.
"I personally want to meet PM Narendra Modi and talk to him about Bihar regiment," she added.
Following criticism on social media for announcing a Rs 5 lakh each compensation for the three martyred soldiers in the Uri attack, the Bihar government today raised the compensation to Rs 11 lakh.
"Chief Minister Nitish Kumar has ordered to increase the compensation from earlier announced Rs 5 lakh to Rs 11 lakh each for the kin of the three soldiers from the state, who lost their lives in the terror attack on Sunday," an official said.
While the Uttar Pradesh government announced a financial aid of Rs 20 lakh each to the families of four jawans from the state killed in Sunday's terrorist attack in Uri in Kashmir, the Maharashtra government announced financial assistance of Rs 15 lakh each to the families of the martyrs from the state.
Meanwhile, the bodies of the soldiers — Sepoy Rakesh Singh of Kaimur district, Naik S K Vidyarthi from Gaya and Havildar Ashok Kumar Singh from Bhojpur district — reached their villages today. Thousands of people thronged for last glimpses of their 'heros'.
According to the state government's decision, the last rites of the martyred soldiers would be performed with full state honours.
All the three soldiers were from 6th Battalion of the Bihar Regiment.