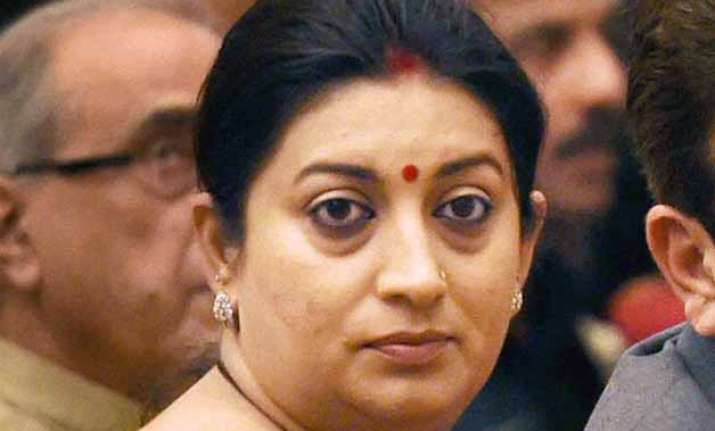 Agra: What may further add to the woes of HRD minister Smriti Irani,now  son of the Agra based doctor who died after being allegedly hit by one of the vehicles in Irani's cavalcade on Saturday, has claimed that he was "forced" by the station in-charge to mention the registration number of a "wrong car" in the FIR.
In a letter to the president  Victim's son Abhishek Nagar has sought justice while reiterating that Irani was "insensitive" to the family after the accident and had not done much to help them even when they "begged her with folded hands". The minister has denied that the car was part of her convoy, the Times of India reported.
In his letter, Abhishek has written that the family will sit on an indefinite dharna if there is no action against Irani.
"After the car in the minister's convoy hit my father, killing him on the Yamuna Expressway, the driver fled while Irani left for New Delhi, leaving the body of my father beside the two injured minors. I was later forced to mention the registration number of the vehicle as DL 3C BA 5315 in the FIR.But that's a car I have never seen. If such a car with that number plate does exist, I would like to see it. The station in-charge of Manth police station refused to register the case if I didn't mention the number in the FIR. The inspector claimed that he had seized the car, but was reluctant to show it," the daily quoted from the letter.
Earlier, Victim's daughter, Sandili Nagar, had alleged that after the mishap she pleaded HRD minister for help but she ignored her.
We were going to attend a marriage ceremony and our motor cycle's speed was very slow. Suddenly, Smriti Irani's vehicle hit us and our motorcycle got slipped. She came out of her car to see us. My father was lying injured on road after the mishap. I asked her to help him but she denied," Sandili had told media persons.
Sandili who also got injured in the accident and received head injuries said, "Had she helped us our father could have been saved."
However, the HRD ministry has denied the charge.
The next day, Mathura police released a statement that the hit-and-run vehicle was "clearly" not a part of Irani's cavalcade.
Earlier, an FIR was filed on the pile-up at Yamuna expressway late Saturday night. It says that the cavalcade hit the motorcycle, killing a rider who was a doctor and injuring two children.