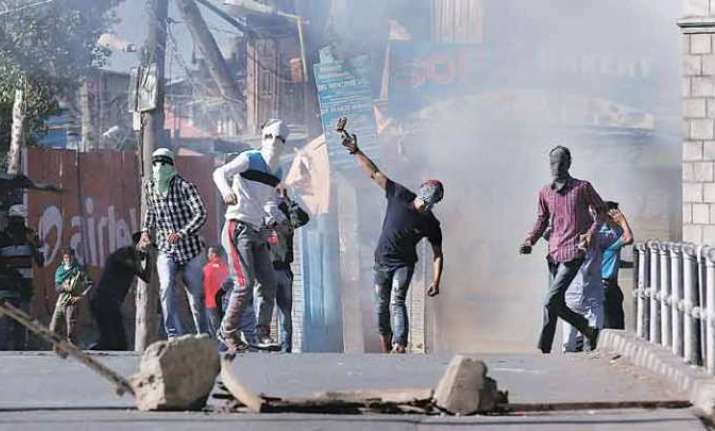 Union Defence Arun Jaitley on Sunday said Pakistan is using proxy terrorism as matter of policy and that the dividing line between State and non-state actors in the neighbouring country is very thin. 
Speaking at India TV mega conclave – Vande Mataram, Jaitley said that the nation is facing two major challenges – one is in Jammu and Kashmir and the other is the internal Naxalite menace. 
In a veiled attack at Pakistan, Jaitley said that while India has shown its strength in tackling terrorism, but the enemy also keeps changing its strategy. 
He said that the "mentality of rendering State helpless in fighting terrorism is dangerous and must be countered". 
Speaking about the National Investigation Agency's (NIA) action against separatists involved in terror funding in Kashmir, Jaitley said that the action by the security agency and the finding in its probe have led to change in narrative in the Valley.
#NIA cracks down on terror funding in #Kashmir, many #Hurriyat leaders arrested #VandeMataramIndiaTV pic.twitter.com/4qoVUUzadV

— India TV (@indiatvnews) August 13, 2017
 
"A debate has begun on the tactics used by separatists. Voices have begun to rise against the narrative of separatists," he said. 
Jaitley said that the replacement of Sufiism and Wahabism has been carried out by a cross-section of people – both from across the border and those who have misled youth toward terrorism. 
In Pics: Vande Mataram India TV: Recent Incidents Have Shown That Our Forces Dominate The Borders, Says Arun Jaitley
Union Defence Minister further clarified that the government's priority is to clear Kashmir Valley of armed militancy. "Both Left wing extremism and Jihadi terrorism are big challenges. There are efforts to rationalise homegrown militant activities," he added. 
Arun Jaitley also hailed the Centre's move of 'demonetisation', claiming that it has helped in curbing the terror funding to separatists from across the border and has also led to a dip in incidents of stone pelting. 
Asked if India stands divided even during attacks, Arun Jaitley said that the nation should have faith on the Army, who is working in a difficult situation at the border. 
"Our battle not with general public, though misled. The priority of forces is to target and fight armed militancy in Kashmir," he said. 
Acording to official figures, six top militant commanders, including LeT's Abu Dujana, and Burhan Wani's successor Sabzar Ahmad Bhat of Hizbul Mujahideen, were among 132 terrorists killed in encounters with security forces in Jammu and Kashmir. 
The number of terrorists killed in the past seven months this year is the highest in the same period over the past seven years.
While 38 LeT militants were killed in over seven months till 9 August, 37 Hizbul militants were eliminated along with three of the Al-Qeada-linked Zakir Musa group, and another 54 unidentified militants were killed, mostly on the LoC.