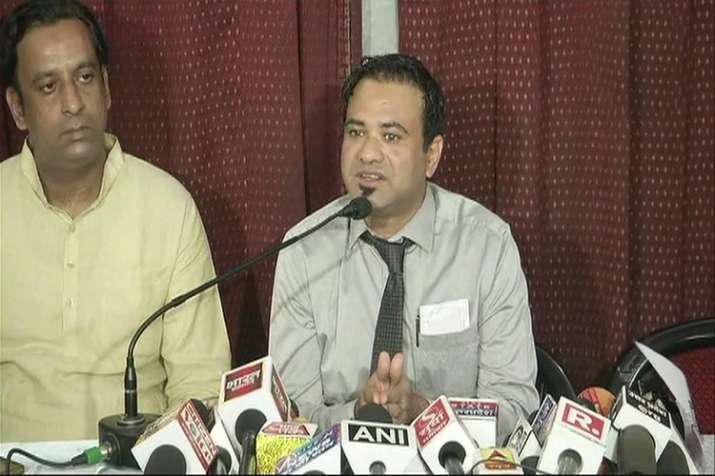 Dr. Khafeel Khan whose younger brother Kashif Jameel was shot at in Gorakhpur, on Sunday demanded the case be investigated by CBI or a High Court Judge.
"It was promised that the culprits will be nabbed within 48 hours. It has been a week now but no action has been taken yet. No arrests have been made yet," Dr Khan said in a press conference.
Dr. Khan also accused the UP Police of intentionally delaying the treatment of his brother after he was shot.
"My brother was not allowed treatment in time. We were constantly pressurised for a medico-legal test," Dr. Khan said at the press conference.
Kashif Jameel was shot at in Gorakhpur's Durgabadi area on June 10 by unknown assailants.
During the press conference, Dr. Khan claimed that the police was acting on 'someone's instruction'.
Referring to the attack on his brother, Dr. Khan said that the shooters were hired by Bharatiya Janata Party (BJP) MP Kamlesh Paswan and Baldev Plaza owner Satish Nangalia. Khan alleged that his brother was attacked over a piece of land owned by his uncle and encroached upon by the BJP MP and the shopping complex owner.
"BJP MP Kamlesh Paswan and Satish Nangalia, owner of Baldev plaza, hired shooters for this. Paswan has no personal enmity with my brother. My uncle has piece of land which he and Satish encroached upon in February," said Khan, adding that an FIR was lodged in the case and that they had sought stay order by High Court on arrests.
Dr. Khan also demanded the suspension of SP City Vinay Singh and Circle Officer Praveen Singh.
"Our family is still living in threat. We demand adequate security from the government. UP Police will be responsible if I am killed," Dr. Khan told reporters in Lucknow.
Following the attack on his brother on June 10, Khan had appealed to the authorities to investigate the case on priority, pointing that the attack was carried out just 500 metres away from the residence of Uttar Pradesh Chief Minister Yogi Adityanath.
His mother had sought police protection for the family following the attack on Jameel.
Kafeel Khan was arrested in September last year after several children died at Gorakhpur's BRD Hospital allegedly due to a shortage of oxygen cylinders. 
His family had claimed that the doctor was being made a scapegoat in the case. 
After his release on bail in April earlier this year, Khan offered to help out Kerala government to deal with an outbreak of the Nipah virus. 
Meanwhile, BJP MP Kamlesh Paswan has dismissed the allegations.
Speaking to reporters in Gorakhpur, Paswan, MP from Bansgaon said he was mulling a defamation case in this regard. 
"After getting Congress president Rahul Gandhi's letter in his support, Dr Khan is trying to hog limelight by levelling false allegations against a BJP MP. He is making absurd statements like Uttar Pradesh Chief Minister Yogi Adityanath was in town when the incident took place. 
"He has also said Yogiji and I are not on good terms. This is absolutely absurd. He himself had gone to the hospital after getting injured but had not taken my name before the police then. After five days, he is taking my name, which is ridiculous," Paswan said, adding that he was ready for any probe, "by the CBI or any other agency". 
Asserting that the allegations levelled against him by Khan, who spent nearly seven months in jail in connection with the BRD Medical College case, in which a number of children and infants died, he alleged that "Kashif and his brothers are accused in over a dozen cases of land-grabbing". 
"In the past, Kashif had himself shot at his leg and tried to frame a 55-year-old man and a 60-year-old woman in a case. He is in the land business and is an accused in many cases. He had fraudulently taken a huge loan from the Punjab National Bank in the name of two persons -- Shadab and Yusuf -- and did not repay it. The bank has served a notice," Paswan said. 
Taking a jibe at Dr Khan, the MP wondered how could he address a press meet in Lucknow "suited, booted", when his brother was undergoing treatment in a hospital.